Superfine! NYC 2018! May 2-6 at 459 West 14th Street / / Meatpacking, Manhattan.
Art Alliance Participants:
Yelena Lezhen, Katya Leonovich, David Sharashidze
Each Superfine! fair in Miami, New York, Washington DC, and Los Angeles provides a fun, sophisticated, transparent, and approachable atmosphere that encourages our visitors to collect contemporary art.
Emerging art is our lifeblood. To build a thriving and sustainable art market in each Superfine! city takes redefining and honing the concept of an art collector. We create programming and curate an exhibitor base that appeals not only to dyed-in-the-wool collectors but also the rapidly growing, art-loving young professional sector. Our program is relevant, dynamic, and collector-driven.
By partnering with cultural organizations like the Whitney Museum of American Art and Perez Art Museum Miami (PAMM), along with membership based programs like Soho House and Sotheby's Preferred, we bring maximum visibility to our exhibitors among pairs of eyes that buy. Our fairs are regularly covered in local and national media including the Wall Street Journal, Hi-Fructose Magazine, the New York Post, Miami New Times, and Cultured Magazine, along with an array of blogs and radio + television outlets.
Whether you're a major collector with a museum bearing your name or a young couple looking to add a contemporary art flair to your chic urban love nest, Superfine! is where you'll discover the top emerging contemporary art in the world.
Want to add an art layer to your life?
We do the work for you, selecting galleries and artists at the cutting edge of emerging contemporary art, with an array of price points friendly to even the most novice collector.
You need only show up and experience firsthand a new and vibrant art market, one built around transparency and excitement about contemporary art.
Exhibition «Contrasts of Spring», April 12th 2018  from 6 pm to 9 pm
Address: Caelum Gallery, 508-526- W 26th Street, New York, NY, 3rd floor.
 The Tree of Arts consists of paintings, drawings, photography, jewelry and fashion –  those branches being the most beautiful in Spring. It's has become the annual tradition, in April, to celebrate art, inspiration and beauty, bringing together the triumph of different dimensions of creation. Namely, the idea of unity, creative artistry and solidarity of arts inspires us to create this  International Art Allianceproject.
«Contrasts of Spring» vernissage includes painters, designers, and photographers. We are certain that creative people and their work is the most powerful potential that the world possesses. Creativity and creation in all its manifestations is the constant that gives hope to people from century to century and allows one to feel, for a moment, human mutual understanding and continuity of art in the context of the historical development of civilization.
April 12 International Art Alliance presents an exhibition of works of 14 talented creative personalities, members of the Alliance. Their works differ in style, technique and concept.
Each of them is distinguished by unique approach and originality of perception and comprehension of life, the phenomenon of personality and interpenetration of the real world and fantasy. The exhibition is unified in its concept, but the exposition of each of the participants is deeply unique. Craftsmanship and inspiration, fueled by the spirit of the spring revival, charges with extraordinary energy, excites the imagination and opens new, unexpected facets of the world around us, filled with vivid emotions, unbridled fantasies and incredible ideas.
Participants
Painters: Mikhail Turovskiy, Yelena Lezhen, Katya Leonovich, Aleksander Rees, Vladimir Davidenko, Aleksandr Vishnevetskiy,  Anna Zaiachkivska, Serge Semernin, Maya Frank.
Photographers:Alexandra Shvets and  Katrin Albert
Jewelry designers:Kira Koktysh and Vladimir Deming
Millinery:Irina Dratvа
Curator: Tatyana Borodina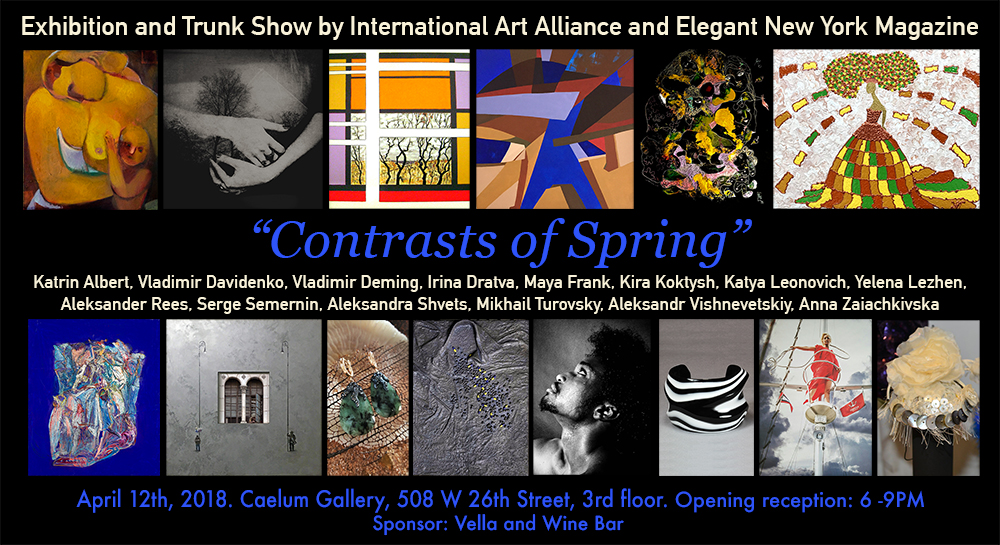 September 15th – 21, 2017. Art and Fashion Week Exhibition by International Art Alliance (MAD&F Gallery, 110 E 31st St, New York, NY 10016) Exhibition Art and Fashion Week was officially included in the calendar of the New York Fashion Week.
Art and Fashion Week Exhibition by International Art Alliance and Elegant New York Magazine will tell the story of fashion ideas from conception to realization. What precedes and accompanies the birth of a new trend? The exhibition will illustrate this exciting process from designer's inspiration to a runway show.
It is no coincidence that we chose this original and multifaceted theme for the upcoming exhibition. As experience shows, in addition to being a launchpad for new trends and a major sales platform for fashion designers, NYFW always generates a keen interest in the artistic process of creating new styles.
What serves as a trigger and a source of inspiration? How is a creative idea visualized and manifested by an author?
The exhibition will lift the curtain, behind which lies a world where inspiration, ideas, and designer creations are born from fantasies, fairy tales, and dreams; where romance and nostalgia for the exquisite styles of centuries passed find their embodiment in the modern times.
Featured works by:  Artists: Anna Kiper, Katya Leonovich, Yelena Lezhen, Violeta Livshen, Angelica Verkeenko and Anna Zaiachkivska
Jewelry Designers: Vladimir Deming, Kira Koktysh, Larisa Shamuradova, Marina Gershman
Fashion Designer: Katya Leonovich.
Curator Tatyana Borodina.
Exhibition The Ardor of Spring, April 20th, 2017
The Ardor of Spring,  Caelum Gallery, 508 W 26th Street, NYC. 
Our showcase will be presented at the prestigious Caelum Gallery.
The program for the night includes an art show, a fashion show, a jewelry trunk show as well as cocktails, refreshments, and sweepstakes with prizes provided by our sponsors.
Artists and Designers:
Konstantin Bokov, Olga Dmytrenko, Elena Iosilevich, Ella Kogan, Kira Koktysh,
Katya Leonovich, Lana Lanetta, Yelena Lezhen, Emil Silberman, Larisa Shamuradova, Oksana Tanasiv. Curators: Tatyana Borodina and Yelena Lezhen
Permanence is most vividly expressed in the cyclicality of life; as long as our planet revolves around the Sun, we can always count on the vernal freshness of the world to catalyze new forms of passionate artistic self-expression.
The Ardor of Spring will feature works of painters, photographers, sculptors, jewelry and fashion designers exploring the subjects of femininity, rebirth and yearning.
This time, International Art Alliance showcases 12 talented artists. Their works are very different in terms of style, technique and concept. However, they all share a passionate desire to use their artistic skills to create a portal to the whole spectrum of diversity of the world filled with vivid emotion, exuberant fantasy and incredible ideas.
After Show. Testimonials:
As an exhibitor of «Ardor of Spring» exhibition, I would like to send an appreciation note to the organizers of the show, especially Tatiana Borodina. It was done an incredible promotional work on the show with many publications in the press, articles by critics, marketing online and on the social networks. The attendance of the show was a big success, many visitors came to see the show, including journalists, art collectors, galleries. Thank you to the organization Art Alliance and Tatiana Borodina for a great work done on the event! – Oksana
Great presentation! Thank you very much! – Nicholson.
Excellent , thanks so much! Amazing! – Karrin R.
Thank you so much for organizing a great event – The Ardor of Spring. I know it is not easy to be an organizer especially when dealing with people (especially with artists :). It is great to be a part of an artist community and be able to participate in such venue. Look forward to your next project.  – Elena I.
It is not a surprise the major effort is required for putting together an art exhibition at Chelsea, New York. It proves to be completely true for the Ardor of Spring exhibition. I, as a participated artist, is very greatfull to the online magazine Elegant New York, Art уAlliance Web Portal, and their creator and executive manager Tatyana Borodina for making this exhibition happen. Her leadership was instrumental in finding a gallery that hosted the exhibition, putting together marketing campaign and working with a creative team of writers for developing a professional art review  for each participared artist.  This exhibition success could not be possible without Tatiana Borodina's dedication and tireless work on this project. – Yelena L.
Exhibition Tales Of Talent, December 1th, 2016
International Art Alliance presents Tales of Talent, the first Alliance members and guests showcase. Fine artists, photographers, jewelry and fashion designers that chose to enter the International Art Alliance believe that art permeates life on every plane of existence; art objects are the building blocks of the space that surrounds us – and our own images. Tales of Talent are told by voices that express themselves through the creation of beauty not to be admired from afar, but to be loved as part of our everyday lives.
Featured artists: Artists: Lena Lezhen, Elena Iosilevich, Sergey Ovcharuk, Marina Kashirskaya; Photographer Tatyana Borodina; Jewelry Designers: Kira Koktysh, Leonid Vilikhin, Fashion Designers Anastasia Ivanova. 
Tales of Talent will not only introduce the public to outstanding artists and designers, but also give our guests a rare chance to acquire unique artworks and sophisticated holiday gifts for themselves and their loved ones. December is a month when everyone is waiting for miracles – but we also enjoy giving them to those we love.