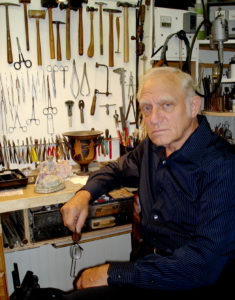 Artist Statement:
 "In my work, I try to unearth the beauty which is hidden in the mediums I use. Flowing designs, contrasting colors and hand-carving techniques establish a dramatic style that allows each collection and each piece to be unique. I design keeping in mind the union between the body and the jewelry resulting in a soft, comfortable feeling for the wearer. I design for the woman who wants to look and feel attractive, artistic, stylish and one-of-a-kind." 
When I designed this collection, my aim was to create unique, sophisticated and dramatic jewelry. It is essential that this jewelry would not only complement an outfit but also accentuate its style. Jewelry from this collection can be worn daily as well as for formal wear.
In my work I reveal the beauty hidden within the mediums I use, and unify the physical harmony between the jewelry and the body, resulting in a soft, light and comfortable feeling for the wearer.
All of these components in combination with the simplicity of the flowing designs, the balanced proportions, the classical and contrasting combination of colors, and the sculpturing techniques result in a specific recognizable style.
I made this collection for the creative woman who wants to look elegant with the addition of artistic accents to their look.
Professional Background.
After receiving training as a young man under his father's guidance working on designing and hand-producing jewelry for theaters and movies, Vladimir Deming entered the Academy of Industrial Art in Leningrad, now St. Petersburg, Russia  and graduated with a Master's Degree of Decorative Art.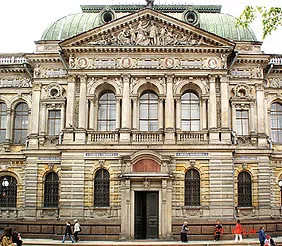 Vladimir began his career as an industrial designer, but his interest, and eventually his main occupation, evolved to antique restoration and the designing and hand-production of costume jewelry. Vladimir's father was working in the Theater of Comedy, where he made Stage Jewelry. By helping him, Vladimir learned many techniques and also made,  together with his father, a great many Stage Jewelry pieces for different movies, made in Leningrad's Movie Production. Vladimir emigrated from Russia in 1975. Prior to his transition to the U.S., Vladimir worked for the Vienna Opera House in Austria creating Stage Jewelry. In his first two years in the U.S., Vladimir worked in New York City as a Jewelry Designer for Gemveto Jewelry Co. and Carvin French Jewelry.
Vladimir developed his own antique restoration business working for private clients and antique dealers. In 1987, he was invited to develop and teach a course of 'Restoration of Ceramics' at the Fashion Institute of Technology in New York City. He taught students this course for nineteen years. Many of his students today own their own restoration businesses, or work for other restoration  studios and museums. Then for 8 years, Vladimir was teaching a course of Handcrafted Costume Jewelry at the School of Continuing education at FIT.
Currently, Vladimir teaches at FIT in the School of Continuing and Professional Studies. In 2006, he opened his own educational studio called The Little Studio LLC where he teaches private students, and creates his own jewelry. The studio is located in the Upper East Side of Manhattan in New York City.