Ulya Aligulova
For Armine, it all started in early childhood. Art came to her naturally, organically. As a little girl, Armine liked to daydream and soon discovered that painting was able to give life to her dreams. The sensations of freedom and power that came from this metamorphosis of imagination into reality were exhilarating and intoxicating, ultimately determining her fate of life in art.
Do you remember when you first realized that your calling is art?
I suppose I was around five years old. As far as I can remember myself, I've always loved painting and never even considered a different occupation. Although when I was younger I also studied music and, to my surprise, found many parallels between music and art. It turns out that the two disciplines actually follow a lot of the same principles.
When I was eleven years old I got accepted into the Taras Shevchenko State Art School in Kiev after I successfully completed the children's art contest they were holding. It was a very special school because all the professors were great classical artists themselves, many of whom are recognized and world famous right now, such as Zoya Naumovna and Oleg Zhivotkov. One of my favorite mentors was Leo Prizant. He was a wonderful teacher who not only taught me to love art but made me see the beauty and nobleness of the profession of a pedagogue. After graduating from art school I continued my education at the National Art Academy in Kiev and later became a member of the National Union of Artists of Ukraine.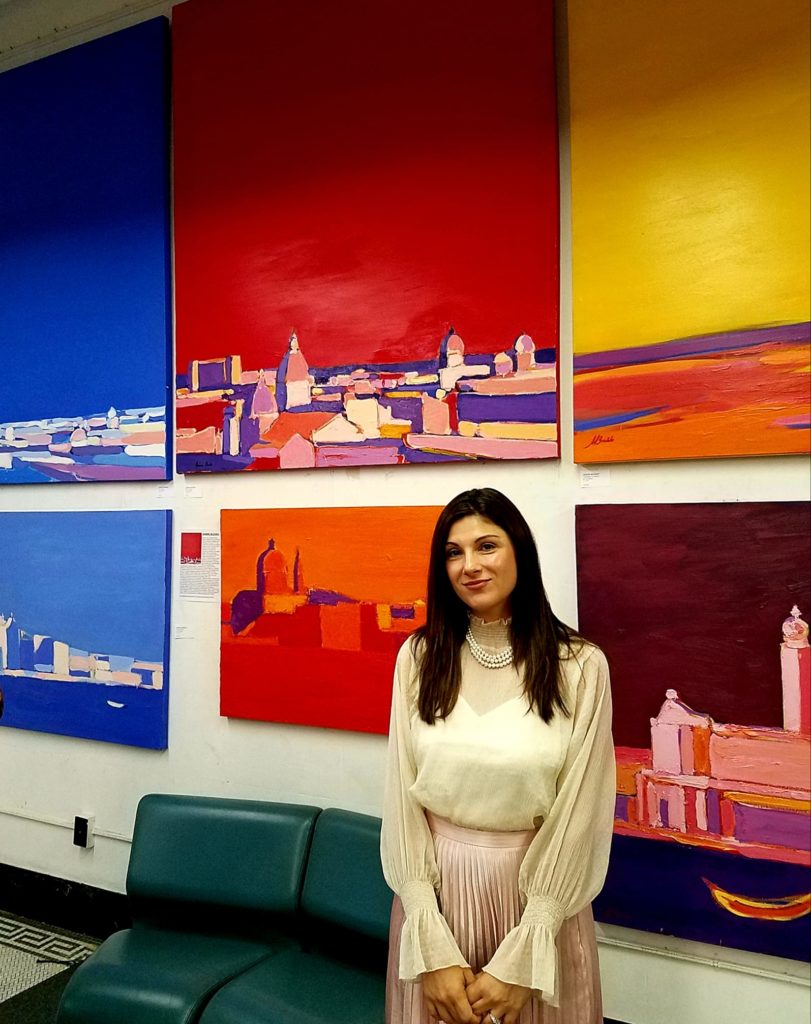 You mentioned that you admired the occupation of a teacher. Did you work as a teacher yourself?
Yes I did. Since my mother is Armenian, I moved to live in Armenia for a few years where I taught at the Armenian Art Institute and became a member of the National Union of Artists of Armenia.
Having lived in so many different countries, you've surely gained many unique experiences and different perspectives. Can you tell me about that?
Since my parents are of different nationalities, since childhood I've always perceived life through the prism of various cultures. I grew up in Kiev, studied in Poland and have lived in Armenia and the United States. As an artist I've always loved travelling. I find it greatly enriches your character as it broadens your horizons and opens up new outlooks and attitudes. I think it was in fact art itself that drove me from one place and led me to a path of exploration.
Every place I have lived in I've learned something new, uncovered different peculiarities of each country, its traditions, culture and art. These encounters filled me with sensations of freedom and belonging, enriching my imagination and providing endless inspiration. Drawing on the diversity of cultural experiences is invaluable for an artist. A new country is always a new revelation, a gift that forever stays with you. By understanding and embracing the features of different countries, you expand your boundaries, your worldview and vision. In my opinion, this is a crucial aspect of art.
Which of these countries was closer to your heart? Where did you feel more at-ease to create?
To be honest, I've actually been thinking about this recently. Every country I've lived in fascinated me in its own way, so it's very hard to compare. Each one has touched me in a different way, each one has left something special and deeply personal in me.
I spent my childhood and youth in Kiev and I will naturally always have an attachment to my hometown. To this day I try to keep in touch by pursuing joint projects with my childhood friends and Ukrainian artists that I've known and loved since childhood.
Armenia stunned me with its picturesque beauty, its nature, vivid colours and easter temperament. It's as if it has just descended from a painting and begs to get on a canvas again, but this time in my own vision. Armenia was a new breakthrough for me, a new school of art. The vibrant colorful style of Minas Avetisyan inspired my passion for color and texture.
Poland was a whole different experience – the western school of art. There I met marvelous creatives and made many new discoveries that became further steps in my journey as an artist. In Krakow I worked with a magnificent painter Peter Yargush whose artistic style embodied so much freedom, further deeply impacting me.
The United States has always seemed to me like a Mecca of art. It is the country of Rothko and Pollock – painters I've adored but never dreamed of seeing. As a child I could have never imagined that I would be living near museums such as MoMa and MET, that I can visit at any point for a meeting with my beloved Rothko.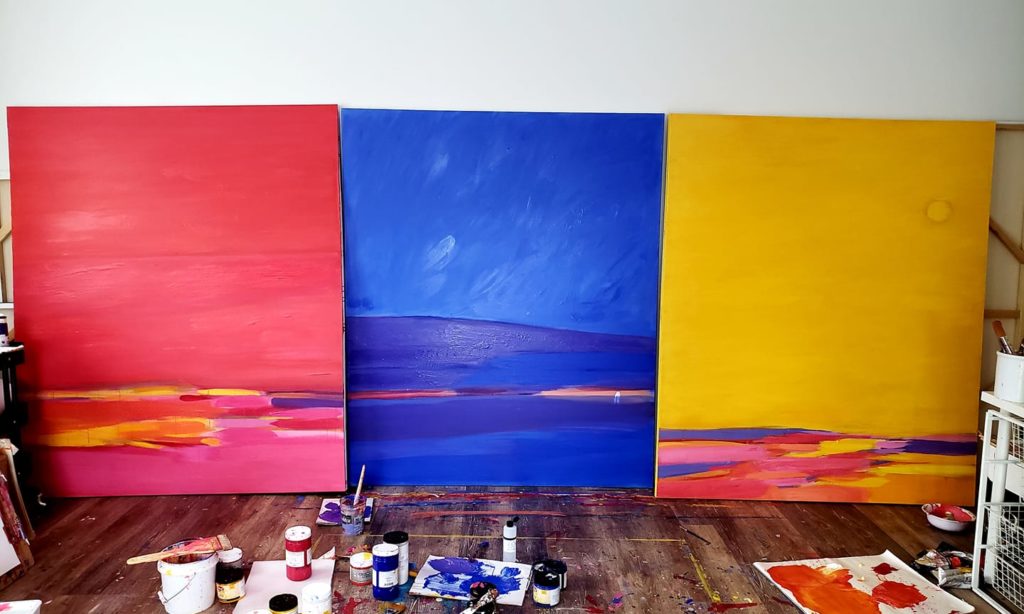 You've pointed out quite a few renowned artists, which of them inspire you more than the others?
I consider Van Gogh my greatest teacher. Irving Stone's novel 'Lust for Life' about Van Gogh's difficult life, challenging artistic journey, and stoicism deeply affected me and taught me never to give up. Minas Avetisyan instilled in me the love of color while Martiros Saryan greatly influenced my outlook on the world. From American artists, Rothko and Pollock, as I said before, are my idols because of their independence, courage, and devotion to their creative principles.
I believe that these great artists that lived a long time ago and have long left the Earth, still continue living in their creations. I am constantly involved in an internal dialogue with them. We are free to choose with whom to have this time-transcending "conversation". For me Van Gogh, Minas Avetisyan, Matisse, and Rothko, are more than teachers, they're my friends and family.
By the way, I was surprised to find out that not only did I live in the same city of Portland where Rothko first moved after leaving his native Lithuania, but I also taught in the same art school that he attended! At a very different time, of course!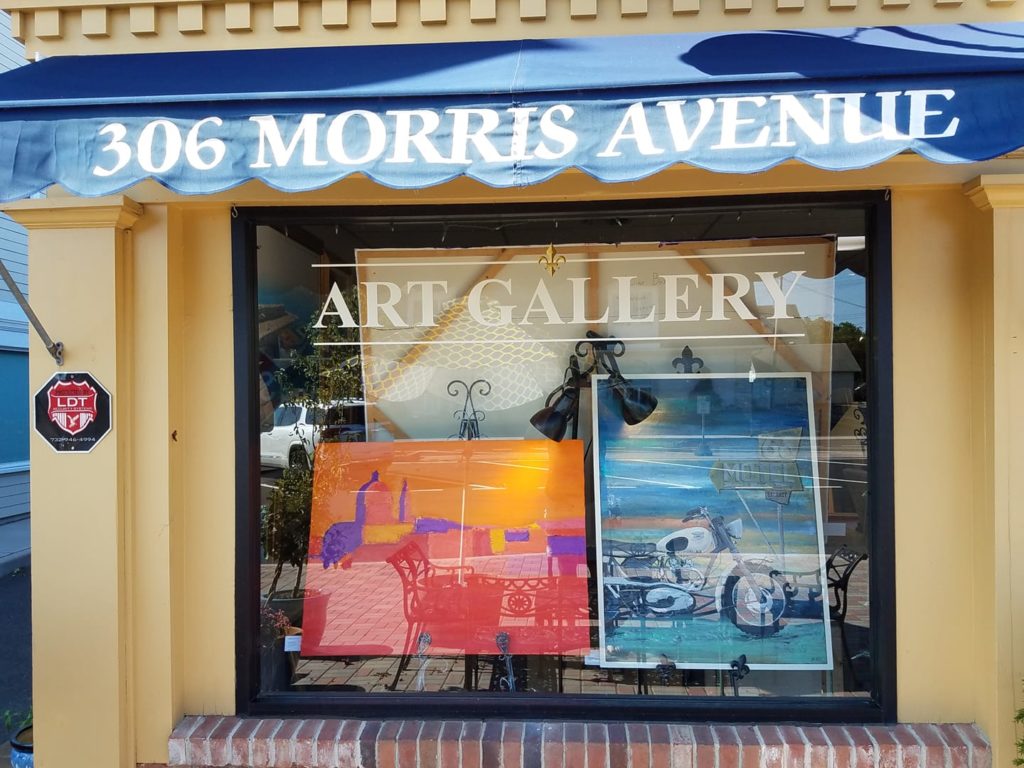 The artists you've named have devoted their whole lives to the pursuit of their personal path, regardless of how challenging it was. Each has drastically impacted not only the development of the arts, but also the general public's mindset and perception of the world. What do you think is an artist's role in the modern world?
I don't see the world without art. Art always guides us forward, shapes our emotional and cultural identity. An artist's mission is crucial as he's a leader. He's responsible for filling life with emotions, stirring our imagination, finding new outlook on mundane things, asking important questions and seeking answers for them.
An artist's role in society is to find common threads connecting all of us, building bridges, both intellectual and emotional, through art. By way of music, painting, sculpture one can convey what cannot be articulated through speech. This kind of art is international, intelligible and accessible to all, regardless of what language you speak. Besides, verbal communication always stays within certain norms and regulations whereas art is free of all those barriers and able to penetrate right into people's hearts. Art is ultimately freedom. And likely because that, in totalitarian countries it has been tightly controlled and suppressed howbeit countries that have embarked on a path to freedom and democracy generally experience a rapid and intensive flourishing of all areas of art.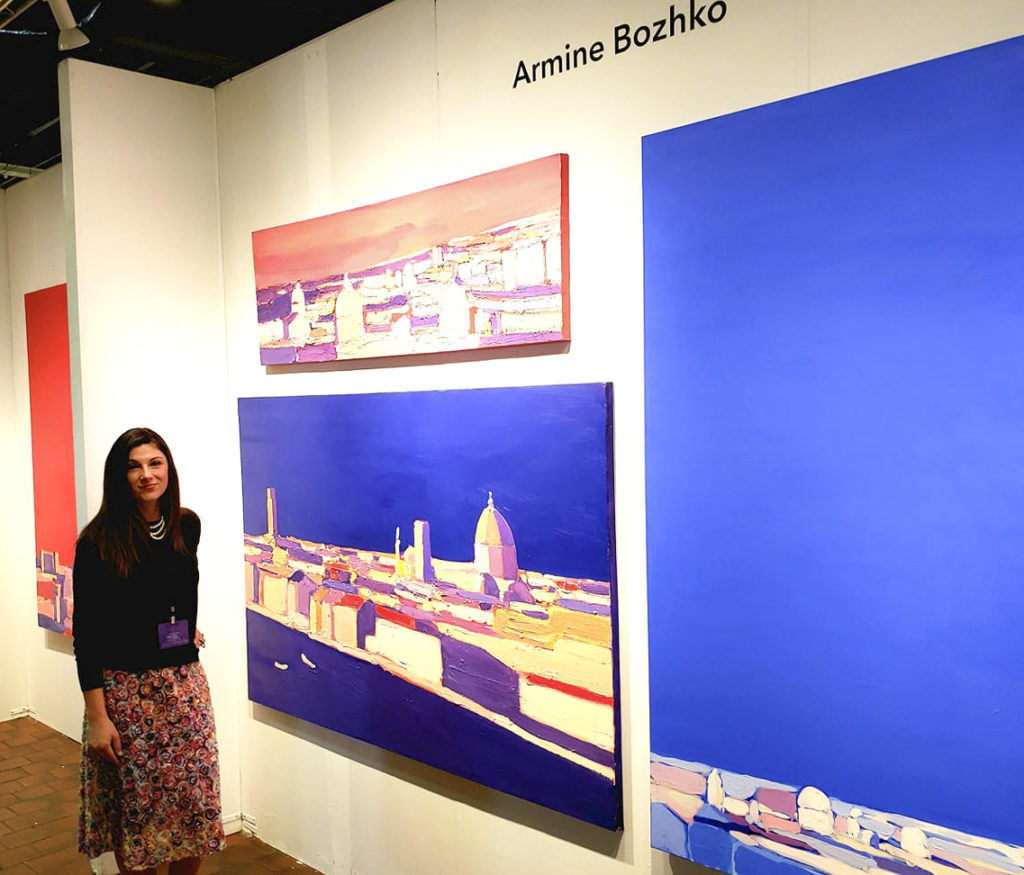 What's your medium of preference and how would you describe your style?
I feel very comfortable working with oil. Although acrylic paint is also my frequent choice as it allows me to create quickly. While oil dries for a long time, with acrylic paint, the work is finished on the next day. But for me oil is more organic, I feel it better.
My style is mostly expressionism. Some of my works are on the verge between abstraction and expressionism, or abstraction and realism. I find they resonate with one another and merely convey the degree of abstraction.
You've mentioned that you often collaborate on projects with international artists. Are you participating in one of these projects at the moment?
Right now I'm involved in a joint project called "Letters in Space" with two wonderful Ukrainian painters – Yelena Priduvalova and Olga Konoschuk. We were all born in Kiev and all belong to a common artistic environment of our unique city. Although we currently live in different corners of the world, our thoughts and feelings resonate and we seek to share them and reveal them in this project.
Yelena Priduvalova is a well-known master of Ukrainian modernism. Her work reflects Kiev's school of contemporary art, with her light and spontaneous expression of life and her vibrant, expressive color palette.
Olga Konoschuk creates incredibly gorgeous works delicate in color and texture. They're familiar and dear to me from childhood since Olga and I attended the same school.
The goal of our joint venture "Letters in Space" is to investigate art as a means of communication. For the duration of a year we decided to create and publish our work in the digital space – it's our correspondence using visual imagery. Through these works we communicate, convey information about ourselves and reply to each other. But since our correspondence is open to everyone, it means that we also carry on this conversation with the public which also gets involved in it by means of art. In this project we ponder whether art has the capacity to overcome various barriers, be they personal, spatial or time.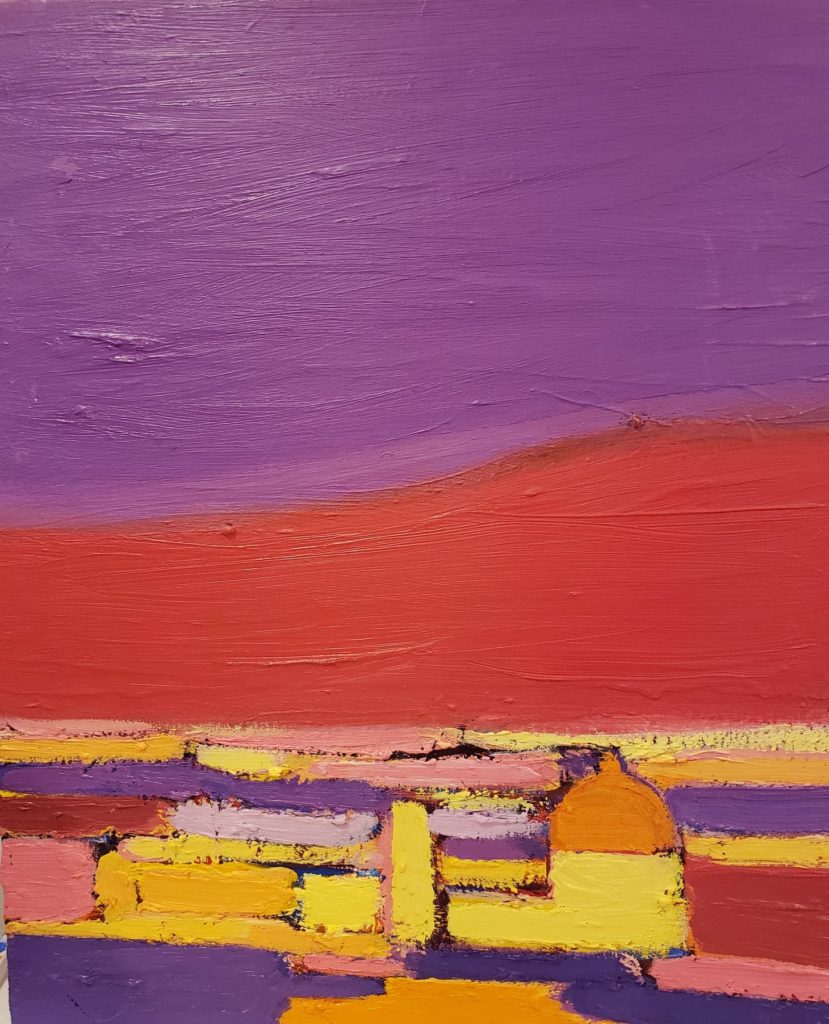 How do you deal with criticism?
It's an inherent part of my profession. When I was studying, constructive criticism was necessary for me to learn and I asked my professors to critique my work. In my early stages of forming as an artist, criticism could knock me down for a while. Today I feel confident and independent as a creative and think that everyone has a right to their own opinion. Some people will like my art and some won't, and that's natural because every person has their own personal taste. Someone prefers art that's calm and peaceful while another is drawn to more active, aggressive art by virtue of their temperament. That's not to say either one of them is incorrect.
What has been the most valuable advice you've received in your life?
When I was still in school, my first art teacher, Leo Prizant, gave us an unusual assignment. The theme of the composition was "sea storm". When we completed the works he said, "Now you must crumple and tear up the paper and try to inflict as much damage to your work as you can." There were several important lessons in this assignment. On one hand, it made me realize that the work must not only be painted but also experienced by the artist. Another lesson was in the loss of fear before painting. Having seen the deliberate destruction of your work, which is the worst thing an artist can imagine, you gain courage.
What would you say to a young artist who is just starting out?
You must always believe in yourself and never doubt your purpose. The path of an artist is not easy, but regardless you must persevere, move forward and keep loving art.