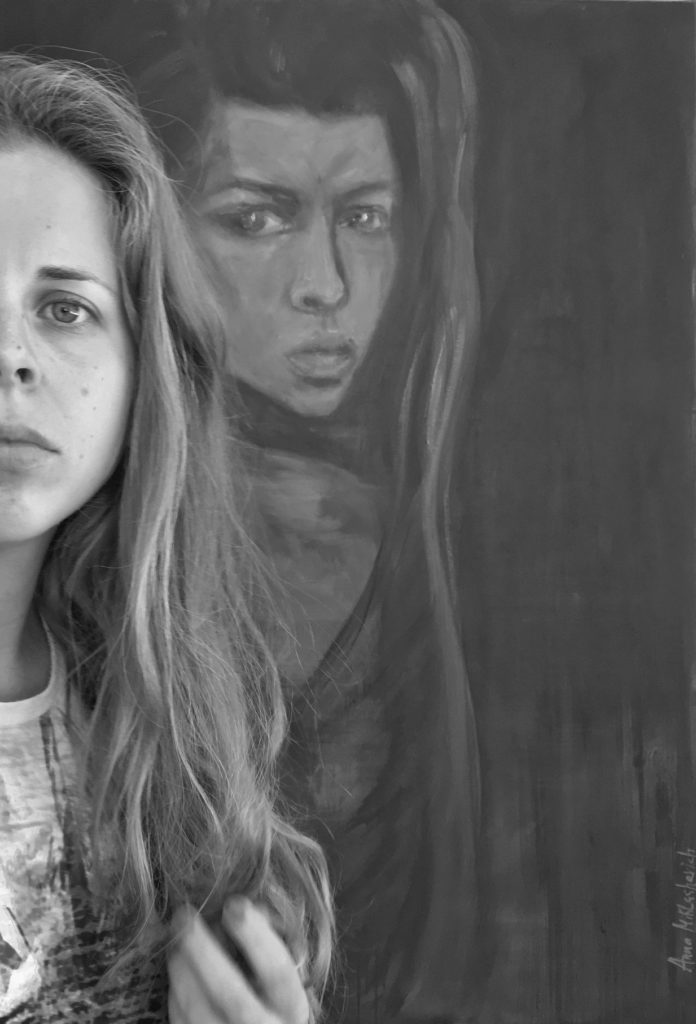 Anna sees the colors of emotions and interprets them as expressive as she feels. She tells stories on canvases and paints to see the reality of feelings, not just by receiving information through eyes, but by inputs of everyday life challenges. Then there are large canvases to evoke these feelings for others to see. To emphasize and enlarge them – meanings and importance of the inner process of every being. Deep eyes, smooth and bright lines of cheeks and faces, all these are on a big scale, big as human life is. Nowadays she paints portraits, those do not belong to any concrete person, like an emotion that does not belong to everyone. And these portraits are her new beginning. She paints mostly women, gentle and bright. She is in the process of understanding whether these portraits are self-portraits or portraits of unknown women. 
– Neza Pavsic, art-curator, culturologist, Slovenia
Short bio
2018 – founded the atelier in Idrija, the city of UNESCO heritage, Slovenia. Here she paints and teaches students all over the World to paint. 
2017 – moved to Slovenia and started a new journey.
2015 – marathoner, Florence marathon, Italy.
2012-2016 – guided the atelier for painting and teaching adults Alla-prima techniques in Kyiv. It was a very intensive time: the thousands of students from all over the World, online coaching, art-business coaching.
2011 – the beginning of work as an artist and teacher of Alla-prima techniques. Opened oil painting YouTube channel (guiding till now) where more than 150 own videos about painting techniques and art management are collected.
Master of Art and Cultural Management, Kyiv, Ukraine.
2006 – started independent work as a writer, later – became an entrepreneur. Till 2018 Anna has more than 15 years of experience in creating and management in art and cultural sphere. 
From 17 years old – work as a PR and organization manager in art and culture sphere.
High school of Art and Architecture, Dnipro, Ukraine.
From 15 years old till now – working with the word in different ways: writing essays, articles, working in the advertisement. Winner and a laureate of competitions as a writer and copywriter.
Exhibitions

Expected November 2019 – solo exhibition, St.Barbara Gallery, Idrija, Slovenia.
April 2019 – group exhibition Dialogues of Imagination, Tenri Gallery, New York.
August 2018 – group exhibition Extempore Cinober, St.Barbara Gallery, Idrija, Slovenia
2018-2019 – permanent exhibition in the own atelier in Idrija, Slovenia
2018 – solo exhibition, MiniColors of Sea Landscapes, in palette knife techniques, Emilija, Idrija, Slovenia.
2018 – solo exhibition, Portraits of Emotions, Emilija, Idrija, Slovenia. 
2013-2016 – permanent exhibition in the own atelier in Kyiv, Ukraine.
2012-2014 – different permanent and temporary exhibitions in galleries and art-shops, Dnipro, Ukraine.