Immerse yourself into the richness of the season! In summer, luxury becomes the very fiber of being. The caressing warmth of sunrays, the lavish softness of sand, a cascade of colors and sensations… Only an artist can create a time capsule holding the essence of summery opulence – the ultimate luxury that comes from combining precious gifts of nature with talent and finesse.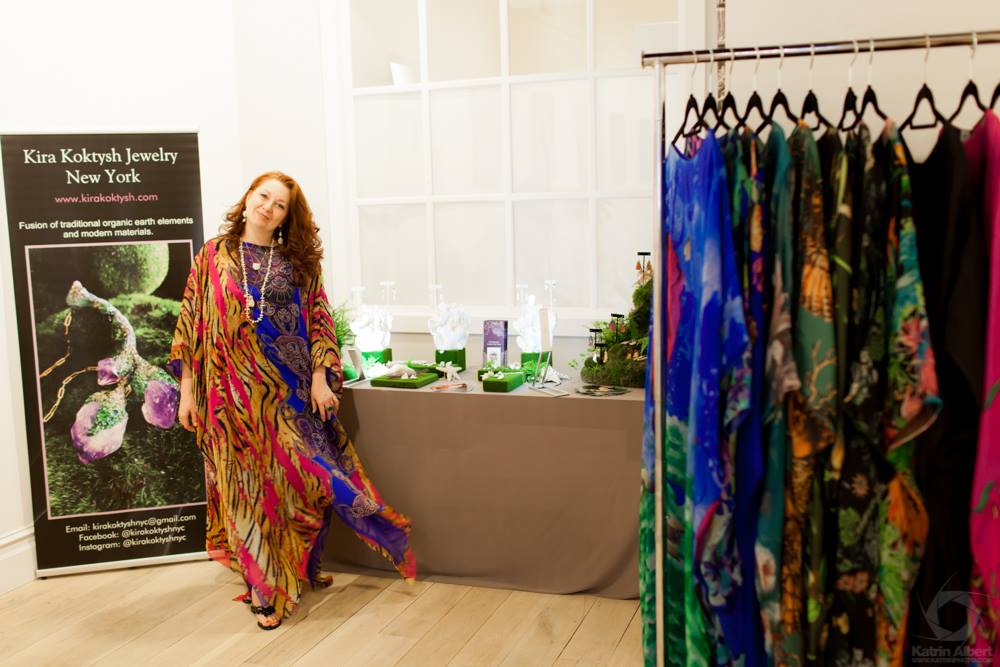 On June 21, two luxury brands Kira Koktysh Jewelry New York and Covetcaftan presented their joint trunk show The Pinnacle of Bliss in the space provided by Evans Real Estate. It's hard to imagine a better summer ensemble than a chic silk caftan by Covetcaftan combined with Kira Koktysh's magnificent pearl and amethyst jewelry. All designs were, in essence, very summer-y; however, the success of such combination relies mostly on the approach to materials shared by the masterminds behind the brands. The ultimate goal for both brands was to give voices to the unique colors and textures of precious stones and silk and let them sing a serenade to summer, the season when one doesn't really have to do much to reach the pinnacle of bliss.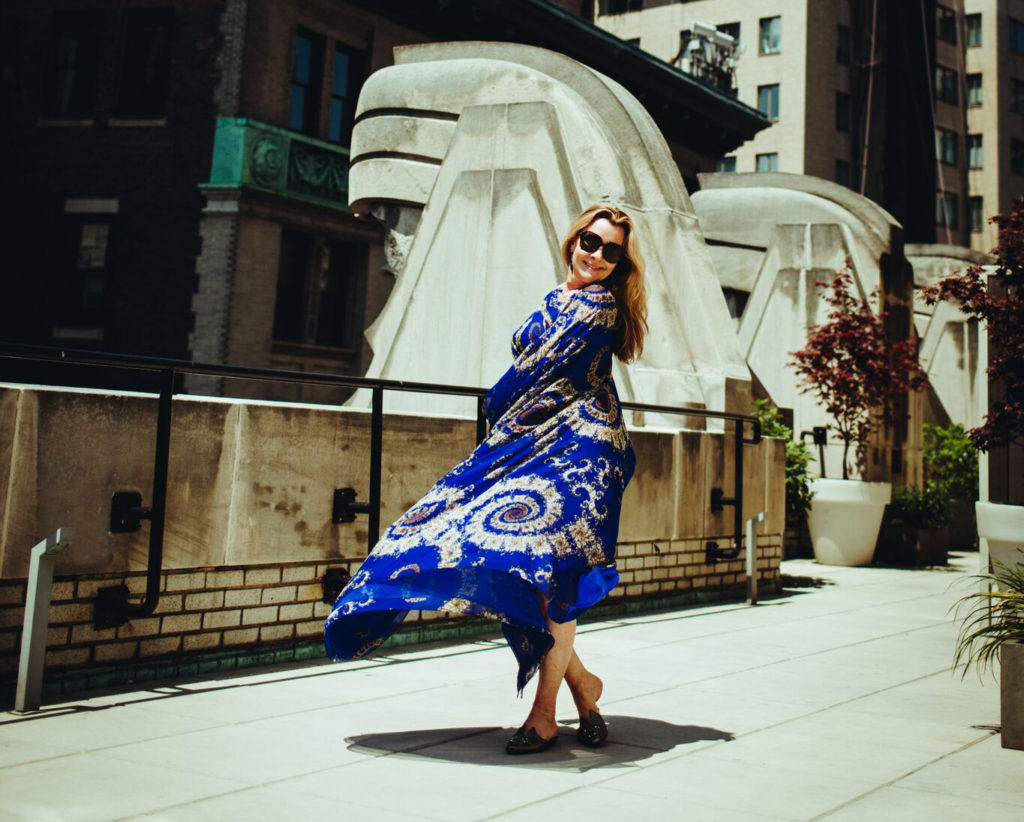 Kira Koktysh, the owner of Kira Koktysh Jewelry New York, creates high-end designer jewelry from precious and semiprecious stones. Kira's philosophy is partly reminiscent of the Japanese wabi-sabi aesthetic: to appreciate the wholeness of nature, the ingenuity of its objects, their roughness and imperfections. Rather than creating artificial, man-made beauty, Kira Koktysh emphasizes the inner harmony of nature's creations, while redefining the meaning of glamour.
Covetcaftan is a luxury brand specializing in silk caftans fashioned for the jet-set and hand-made in Russia. Conceptualized by Marina Shapiro, Elena Tevelev, and designed by iconic Russian designer Elena Souproun, the caftans make easy the blending of versatility and grace, and urge living with a diva-style confidence.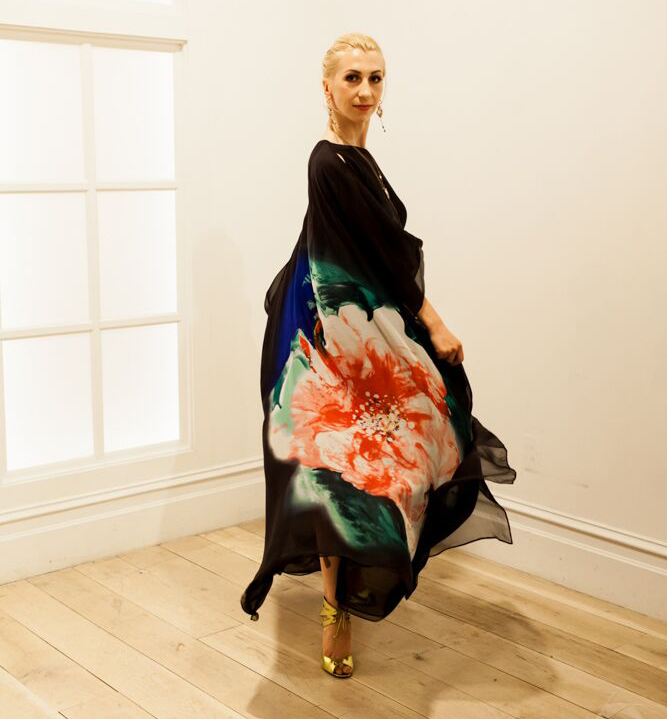 The attendees happily made use of the opportunity to try on everything they saw at the show and create their own perfect summer ensemble. The Pinnacle of Bliss attracted a lot of attention from industry professionals, especially fashion and jewelry designers. Among the guests were Frederick Anderson, whose summer collection Hamptons White was recently praised in Forbes Magazine, as well as Olga and Robert Kheit, the owners of world-famous Cantamessa Jewelry. Anna Zayachkivska, Ukrainian model and Miss World 2013 pageant finalist, and Galina Cheban, mother of reality star Jonathan Cheban known by his recurring appearance in Keeping Up with the Kardashians, could not resist the urge to try on the caftans and a few jewelry pieces. Judging by the smiling faces of Tatyana Borodina, the editor-in-chief of Elegant New York magazine, and fashion and lifestyle blogger Elena Devouture, the press was quite pleased with such a spectacular opening of the summer season.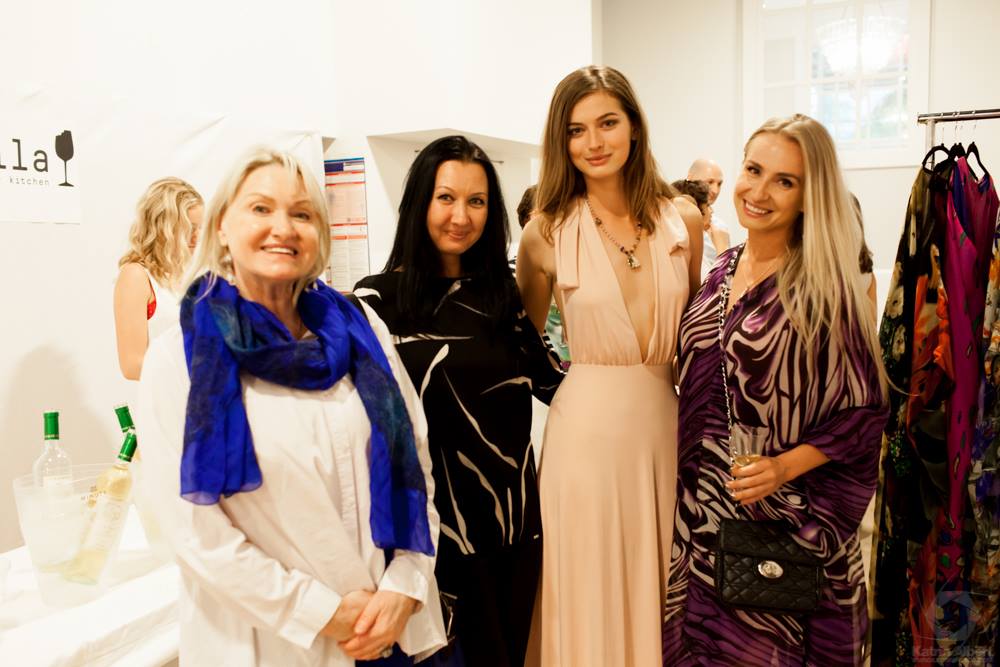 The success of an event is defined not only by what happened there, but how it happened as well. The guests enjoyed wine and cocktails by Vella Wine Bar+Kitchen and tried their luck in the raffle with prizes provided by, among others, Jeffrey Stein 78, FlowerLand Workshop, Moscow Russian Food Store and Katrin Albert Fine Art Photography. The poems of Natalia Newman, the creator of Musical Arts Alliance, have already inspired and accompanied several collections by Kira Koktysh. At The Pinnacle of Bliss, her piece Nearly Perfect once again set the tone for the show: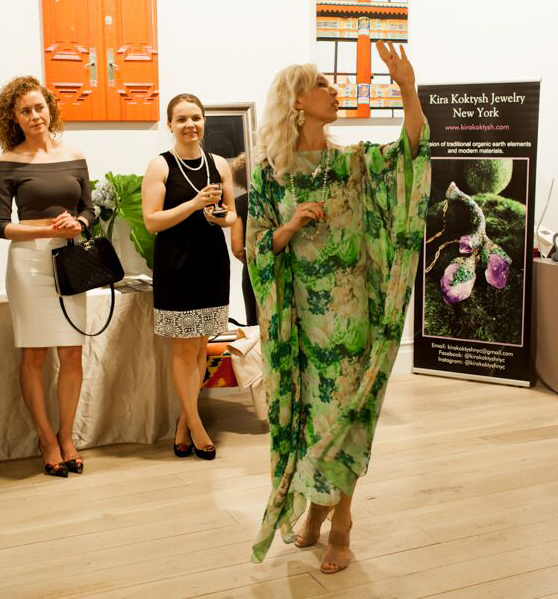 1
What girls would be without jewels, silks and flowers?
Still pretty, yes. But happy? Hard to say.
We need these little trinkets to empower us
In our struggle on a perfect beauty way.
2
Oh perfect beauty! Really? No, nearly.
Just nearly is enough, be realistic here,
We are holding our differences dearly,
To stand apart, not blend to disappear.
3
I want all blue, and green, and maybe a little orange,
My friend, she is into black with sparkles everywhere,
The other likes the soft pastels in warm range.
We all want gems and gold to show us chic and fair.
4
More silks and pearls like us, the nearly perfect ones,
In all the shades and forms that you can find.
The summer is the time to show the work that's done
Of style and beauty, so carefully defined.
5
We are ready for the show superb and fierce,
Just need a little touch of a creative wave:
A silk caftan and pair of pearl earrings,
And watch us, when we make the street a runway.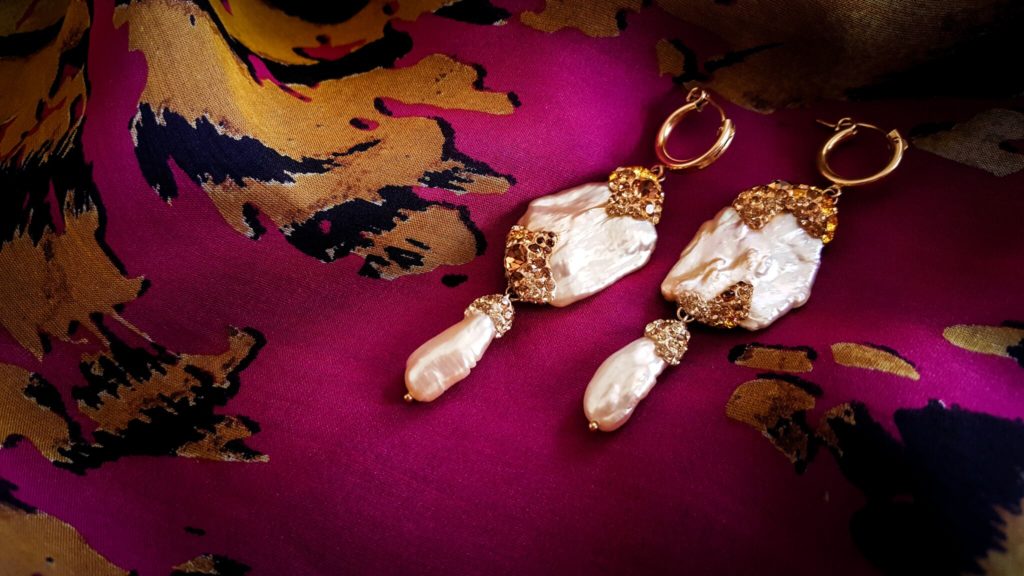 Setting up a successful exhibition is a form of art on its own. When a brand is capable of finding a truly complementary partner without sacrificing its own identity, it's a reliable indicator of this brand's maturity and willingness to experiment. Kira Koktysh Jewelry New York and Covetcaftan held a lively, entertaining event where every guest could switch between being a model and a buyer. If you have not had such exhibition experience, make sure you do. Contemporary luxury is not at all what's locked behind the glass.