Welcome to the exhibition of Ukrainian art
ICONS ON AMMO BOXES
by Sofia Atlantova and Olexander Klymenko,
which is held as part of the Parish Art Show at Wallace Hall,
Church of St. Ignatius of Loyola  on Park Avenue in New York City,
980 Park Avenue New York, NY 10028
Opening reception – May 11th 7-9pm

 
The exhibition is also available for visiting:
May 12th: 12-5pm and May 13th: 10am-2pm
Special thanks to James Martin and Rose DiMartino
The exhibition is held with the participation of the International Art Alliance 
Contact information:
Tatyana Borodina: tborodina@gmail.com
Yelena Duda: yelenaduda@yahoo.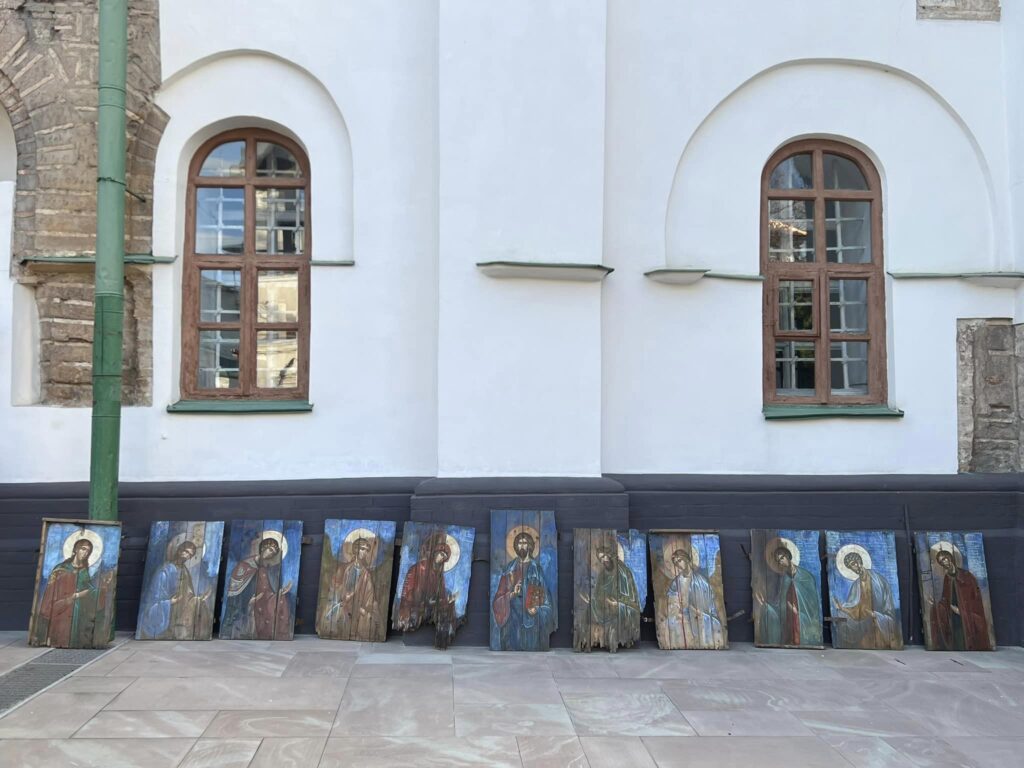 We present the project ICONS ON AMMO BOXES, created by Ukrainian artists Sonya Atlantova and Oleksandr Klymenko, professional icon painters who started working on this project in 2014. The Project is a meditation on the theme of death – symbolized by actual ammunition boxes from the Ukrainian front lines used as the "canvasses" – transformed to life – symbolized by the icons painted on them – in the midst of this conflict. The icons bear silent but eloquent witness to the tragedy and horror of this war. By this project artists give us the understanding that even violence and pain can be transformed into peace and consolation and besides, and also to become a significant source of financial support for people who suffered during the war. The main part of the money received from the sale of icons goes to the creation and maintenance of mobile military hospitals. Since its inception, the project has raised over $500,000 to provide medical care to Ukrainian military and civilians.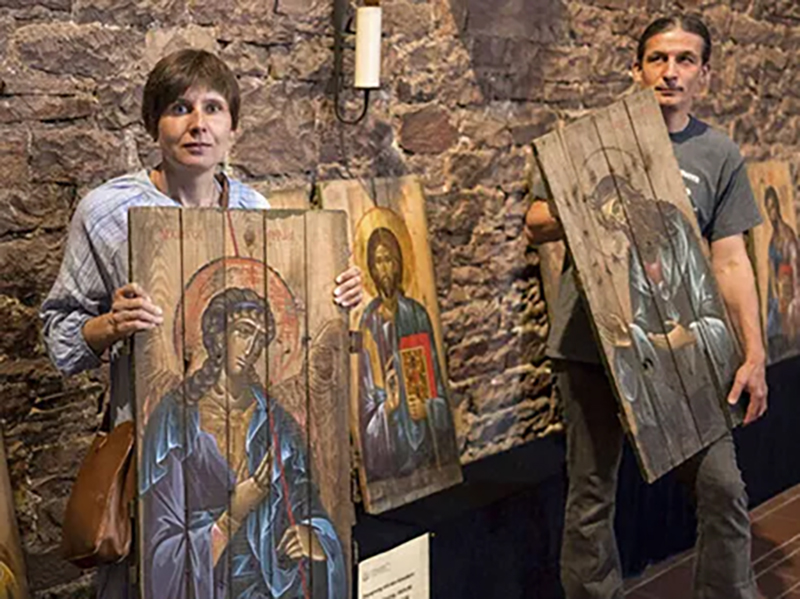 "At first glance, the icons of Sofia Atlantova and Oleksandr Klymenko – are a provocation, a bold challenge to tradition. They break with the typical imagery of iconography, not to outrage, but to show that an icon that breaks with tradition can be convincing. Phoniness is not in the substance, but in the eye of the beholder. It is precisely a perfect, richly decorated and finely written icon that might look wrong at a time when a terrible war has violated the daily lives of millions of people.
Those who are wounded, are refugees, and have lost their loved ones, feel that all beauty has gone from their lives. In its place is horror, suffering and grief. But even in these days, God Himself, His All-Holy Mother, and all the Saints are near. Atlantova and Klymenko's icons speak namely of this. 
…The sacred images can be deduced even in roughly knocked together wooden covers with rusty hinges that until recently served the war. Ammo boxes lie in huge piles on battlefields, reminding us of the toll of war. But in the end, life will triumph over death." – Sergei Chapnin, Senior Fellow at  The Orthodox Christian Studies Center at Fordham University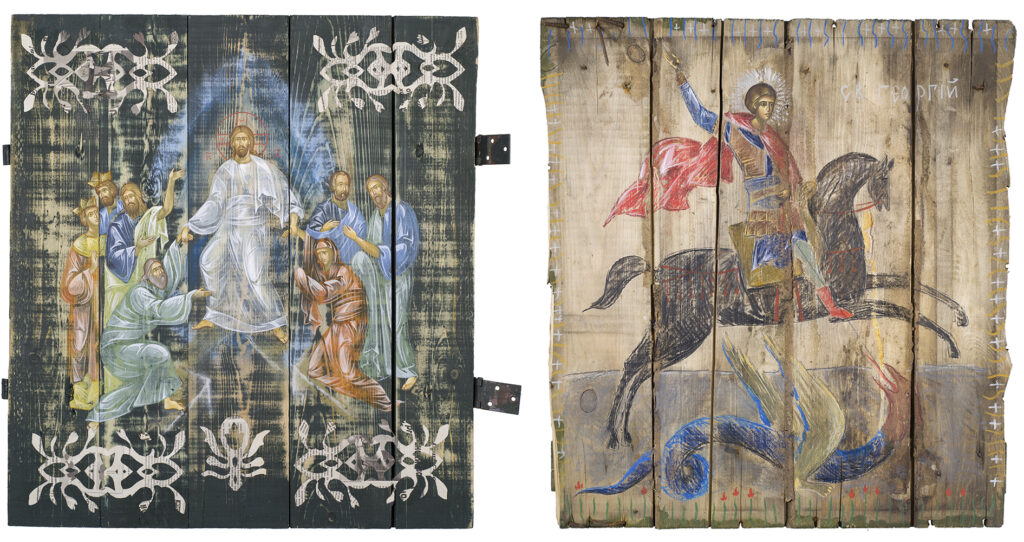 "The icons themselves are gentle—the Christ Child gently caresses his mother's cheek in a gesture of consolation; Sts. Boris and Gleb, the first saints from the region, wear sumptuous golden green robes, with no sign of their martyrdoms on them. Even an icon of a grieving Mary has a softness and delicacy that belies the horror of what she is suffering. Christ in the tomb likewise has more the character of slumber than death, suggesting something more is coming.
And that is exactly the point Mr. Klymenko and Ms. Atlantova are trying to make. "These icons are supposed to be about showing the resurrection of peace and love and also Jesus," explains artist  "Jesus is here, and he is talking to you."
Mr. Klymenko said he also hopes his icons can be a source of encouragement for all those who struggle. "I'm not just trying to show the position of Ukraine but to speak across all countries," he says. His goal is "to show that this war is going to end, like any other wars. As always, evil will be defeated by God."  – from an interview to Jim McDermott, America Magazine, 2023
The project were demonstrated in more then 130 locations including: the European Parliament in Brussels (Belgium), in the Parliaments of Ukraine and Lithuania, in National Sanctuary "Sophia of Kyiv", The University Church of the St Mary the Virgin, Oxford, Great Britain; St John Notting Hill, London, Great Britain; Ukrainian Catholic National Shrine of the Holy Family, Washinton, US; Ukrainian Catholic Cathedral of the Immaculate Conception, Philadelphia, US; Church of Saints Peter d Paul, Bern, Switzerland; Church of St. Gereon, Cologne, Germany;  Ukrainian Catholic Cathedral of the Holy Family, London, Great Britain and much 
The goal of the project is to help Ukrainian mobile hospitals and children affected by the war.
All exhibited works are on sale for fundraising purposes.
If you are interested in purchasing  works lease contact the artist's representatives in the US
Also we are open for any proposal to exhibit this project. 
Contact us:
Tatyana Borodina: tborodina@gmail.com
Yelena Duda: yelenaduda@yahoo.