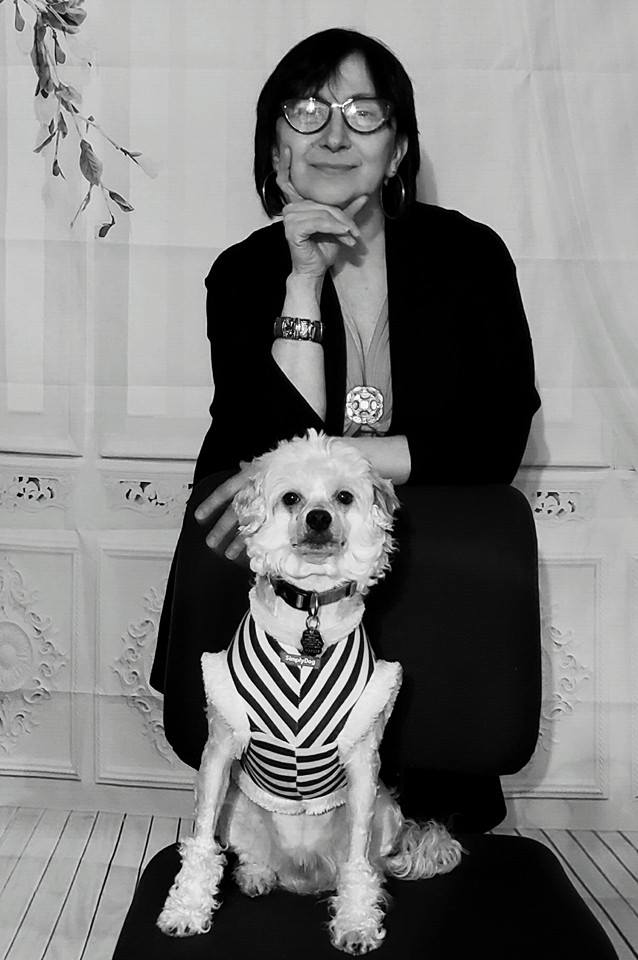 Zoya Anderson: "I rarely give any titles to my photos, leaving you freedom to think and feel whatever you wish."
Biography
I was born and raised in the former Soviet Union. Most of my life I lived in Minsk, the capital of the Republic of Belarus.
At the age of 15, I became interested in photography and began to attend a photo studio for children and young people. My first camera was SMENA-8M. She (the camera) was with me all the time, even at night I kept her under the pillow. When I was 16 years old, my mother bought me another ZENIT camera, which cost her a monthly salary. Thus, ZENIT was twice as large as SMENA, had removable lenses, and it was always a part of me. After high school, I got married and had children. When my children grew up, I continued to photograph them. I wanted to capture their emotions and expressions as they mature.
My growing interest in photography led me to a photo studio where I became a student of Valery Lobko, one of the most experienced professional photographers in Belarus.
After graduating from the State Technical College with a degree in photography, I worked for 13 years as a photographer at the Central Botanical Garden of the National Academy of Sciences in Minsk, Belarus.
During this time I participated in several group photo exhibitions, as well as in three solo exhibitions in Minsk, Belarus.
In 1999, I was hired as a chief photographer at the National Academy of Arts, Minsk, Belarus, where I also taught photographic skills. I worked there for three years, after which I moved to the United States.
In the USA, I continued to photograph my friends and family.
Photography has always been my passion. I prefer to photograph people, not landscapes. Just. I feel I can make really good portraits of people and make them happy. It makes me happy. I love nature! But can I make nature happy if I photograph nature?
So, this is the essence – I am the giver, and all my art is created to make people a little happier!
At this time I live in Alaska. This is an amazing 4 year long adventure. The beauty of nature is up to emotional ecstasy. You look around and think that this is heaven on earth. Until the earth begins to swing under you. Here in Alaska, I experienced an earthquake of 7.2 on December 30, 2018. Yes, it was scary, but not for long. Five minutes of horror and after again paradise beauty.
Once upon a time I had a dream: I waved my arms and rose into the air at about the level of tall trees in the alley. And it was so exciting and such a rejoicing – I'm flying! And it was so real feeling of flying. After that, I began to fly regularly at night, and this affected my direction of filming at that time. My models had to fly. And do not model, too, had to fly and they flew. Proof of this is this series of photographs in which Maria Kapilova and Irina Bigday fly.
Marina Kapilova artist, sculptor, designer, lives and works in Minsk (Belarus) 
IRINA BIGDAY, famous Belarusian curator of large-scale art projects
Participation in exhibitions:
2001-2002  – one-person photographic exhibition "ORDINARY PEOPLE", Mobile exhibition. The  cities of Germany                                                  
2000 -exhibition of the best photographs which were sent to the Republician photo-competition "Sacrament of Motherhood", Minsk, Gallery of  the Museum of Modern Art
2000  -photo-exhibition "Adjectives nouns ", The European humanitarian university, Minsk
2000-one-person photographic exhibition "ORDINARY PEOPLE" supported by :• Belaja Viezha • Fuji • Raznyie- Ravnyie • Mr.Raymond Bowden                                        
1999  – group photographic project "Landscape of Body — Body of Landscape", Minsk, NOVA gallery of visual arts
 1997 -photo-exhibition during "Super Model Belarus-97" competition, Minsk
 1997 -group exhibition of women-photographers "The Problem with Two Unknowns", Minsk, NOVA gallery of visual arts
 1996 -photo-exhibition during "Super Model Belarus-96" competition, Minsk
 1996  -group photographic project "The Self-portrait of The Other",  Minsk, NOVA gallery of visual arts
 1995 -"Minsk Forum-95″ republician photoexhibition, Minsk, Palace of Arts                                          
 1994 -"Gods Among Us" one-person photographic exhibition, Minsk, Palace of Trade Unions
 1989 -AERO group photoexhibition, Minsk, House of Artists Rewards:
2004 – The Second Prize in photocompetition "Wedding of the best friend " , Moscow
1999-2000 — The Second Prize in photocompetition "Sacrament of Motherhood", Minsk 
Publications:
  "Fotodelo" (2004, Moscow)
  "Foto & Video" (1989, Denmark)
 "Cupido" (1990, Denmark)
 "Poligraphis" (1996, Minsk)
  a number of publications in the republician art and cultural magazines  such as "Krynitsa", "Mastarstva" (1993-99)
Educational skills:
1985  – graduated from the creative photographic studio under leadership of Valery Lobko, Minsk
1986 – graduated from the technical college No. 12 with specialization on photography, Minsk
1986-97 – worked as a photographer at the Central Botanical Garden of the    Belarusian Academy of Science, Minsk since
1999 – works as a photographer-foreman at the Belarusian Academy of Arts, Minsk
Next Exhibition