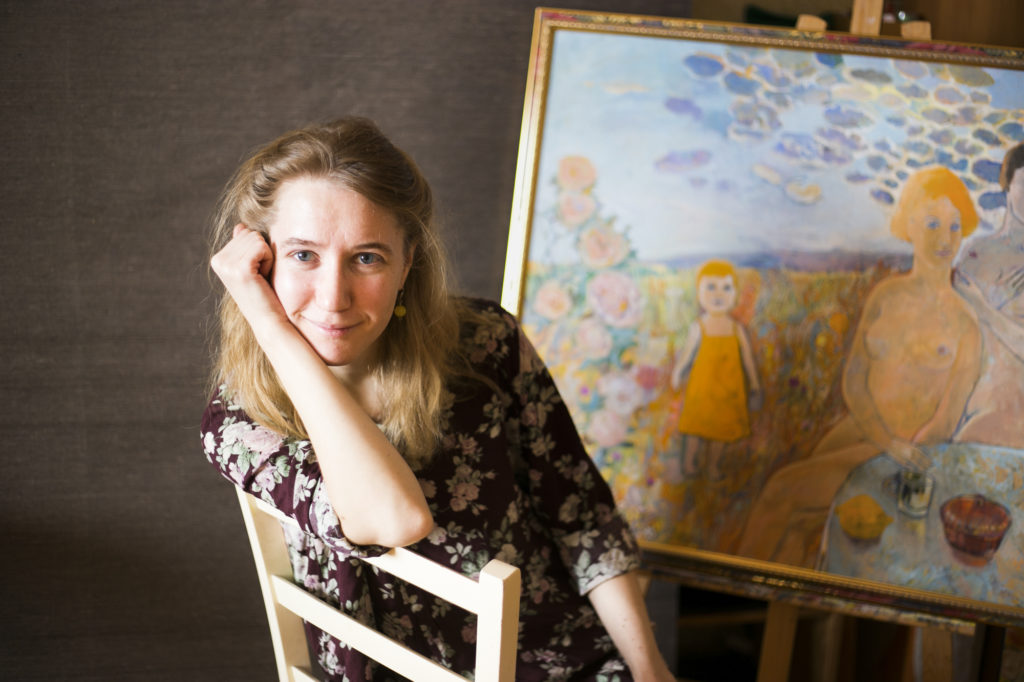 About Artist:
There are painters in the world of art whose creative works seem to have come from dreams, from the mysterious world of visions and romantic desires. Thus, painter Olga Sushkova is an inquisitive explorer of the subconscious and of its connection with the world of sensuous reality.
Olga Sushkova was born on October 9, 1982 in Kazan (Russia). In 2005, she graduated with honors from the Kazan Art School n. a. Nikolay Feshin with a specialization in painting.
In 2007, she did a course at the Dresden Academy of Fine Arts at the class of professor Ralph Kerbach (Germany).
In 2010, Olga Sushkova joined the Union of Artists of Russia.
In 2013, she won the scholarship of the Ministry of Culture of the Russian Federation in support of young artists.
Since 2006, Olga Sushkova has participated in various exhibitions in Russia (Kazan, Moscow, Saint-Petersburg, Samara, Saratov, Kostroma, Nizhny Novgorod, Yoshkar-Ola, Cheboksary, Ulyanovsk, Ufa) and abroad (Dresden and Berlin (Germany), Basel (Switzerland), Vancouver (Canada)).
Her works are in private collections in Russia, Ukraine, Belorussia, Germany, Switzerland, France, Italy, Netherlands, Australia, Estonia, China, Canada and the USA.
From the beginning, the painter's fundamental goal was to express herself as a creative personality through the interpretation of the traditions of German romantic modernism: she used wide brush strokes, absolutely uncharacteristic of Russian art, somewhat gloomy color scale. In a manner, one could characterize this as fauvism – the image was splashed out in waves of emotions, it stopped being the essence of the picture.
It is interesting how Olga's painting has been changing gradually. Significant things depicted, in fact, by everybody, in her pictures are shifted towards the edges of the canvas, so they are represented only partially. The painter seems to be telling us: the main thing in front of us is the space of life and this is what matters. Over time the space of Olga's paintings expanded starting to reflect historical horizons too. Before our eyes a Neo-Renaissance artist was born: harmonious figures, graceful movements, wistful gazes… The girls' hands seem to be dancing a very slow dance, there is no work for them in this balanced world.
It should be noted here that the creator of all this is a real hard worker. Olga spends almost all the time at the easel. Finding harmony, discovering the correlation between the big and the little, between the real and the reflected is also her creative work. Recently, the space of Olga's paintings has been formed by old European towns that touch one's heart so deeply. Some dear beauty of this cradle of our civilization (some people think that it is already not ours but a new one) finds new grateful viewers of Olga Sushkova's paintings.
And now there are other spaces ahead, with new oceans, Arizona's cathedral-like rocks, and the "red forest" so dear to Jack Kerouac…
Dina Akhmetova, art critic,
curator of the State Museum of Fine Arts
of the Republic of Tatarstan