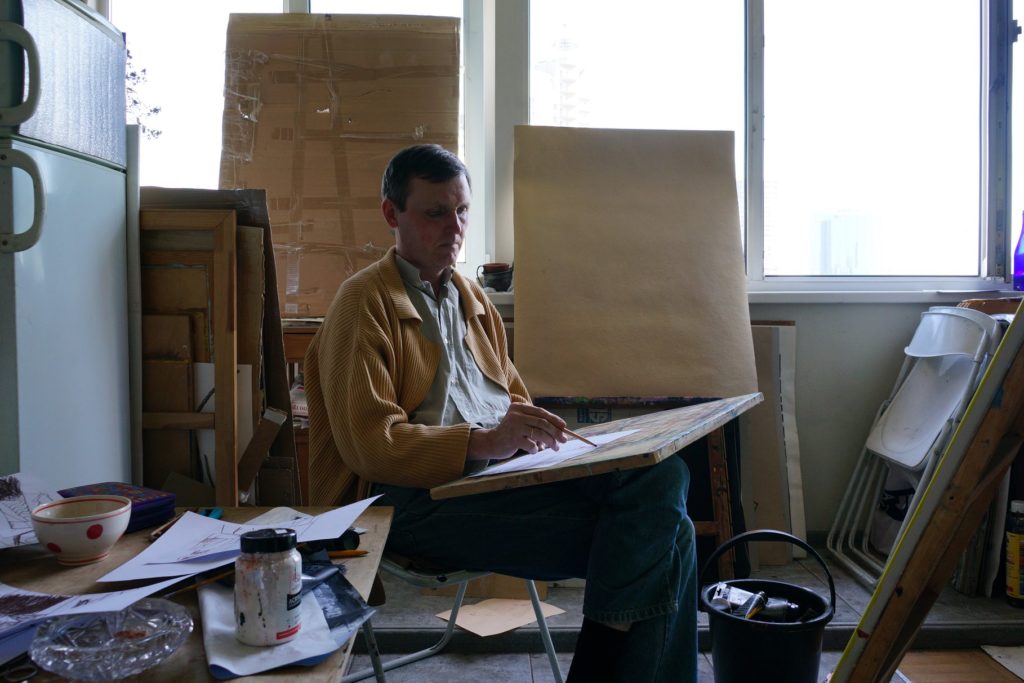 About artist:
Pieces of colored spaces, intricately splintered, have a look of organic embodiment of modern harmony.And freedom ( of a sense, of a manner of artistic work – and our perception of it) is the condition of harmonys' existence. The more beautiful, as it's quite exclusive here, that is to say unique. Namely it exists in the not replicated version by "Oleksii Apollonov".
Oleg Sidor-Gibelinda, art-critic
And as for each true painter, to see the reality for Apollonov means to open the eyes to the world, as if the last appears for the first time. To create new vision, which is emancipated and refined from the conventions – the vision that subordinates the concept to the emotional expirience, and the knowledge to the seeing.
…Whatever  the genre Apollonov chooses, he always remaines true to himself. And there is the variety of genres in his works. It's enough to remember original quotation from old masters ("infanta" by Velazquez, that series was named "the portrait of the portrait"), or "not-ceremonial portraites" created in minimalistic manner and are "the pages from artists' diary". Or biblical motives and landscapes which impress us with their riot of colors. Any way his manner and style remain recognizable. Of course, it doesn't mean that he copies himself. In no case. All the thing is in the individual perception, tha original vision. And talent.
Alexander Morozov, literature and art art-critic
"Having completed a series of paintings, one wants to make a step aside or even backwards. Whether one has become a stronger professional, only the next series will show. When preparing an exhibition, one goes through a rebirth. Attempts at rational self-analysis are useless. One thing is for sure: repeating oneself is not interesting.
"It is one's experience that tells one when a painting is completed. One can get started and bring it to completion at once. On the other hand, one can work for a month and see it changed beyond recognition. Plein air sessions are nice in that one is painting incessantly, and it flows like a stream during such events. Perfection does not depend on time spent at work. Nobody cares about how much time one spent creating a painting, nobody at all. All your feelings mean nothing. The only important thing is the end result.
"Everyone has the right to make mistakes, it is one's attitude that is really important. Some people clearly imagine how it would look from the beginning. Others turn to a totally different direction while the work is in progress. I belong to the latter category. Corrective work never ends. One can always do something differently. Even if an entire cohort of art critics come together and say that it is good, but one is not satisfied with one's work – it is enough. I think that to err or to be a prisoner of one's senses is a privilege of the artist.
"Anyway, art is a craft. And every craft demands work. Nothing has changed since the Middle Ages here. The artist does not even have to be able to draw now, but one still has to present a visual sequence. Everything has the right to exist, everything is interesting and worthy of attention, and I have no problem with it, none at all. But as long as people have walls, there should be paintings on them. While there is a wall, there will be an artist."
From Interview with Dmytro DESIATERYK. The Day Newspaper, 23 December, 2016
Biography:
Born in 1962, Kyiv. Graduated from the National Academy of Fine Arts and Architecture in 1986. Since 2012, Apollonov has been a founding member of the Blue October creative team. He has regularly exhibited solo in Kyiv since 1997 and participated in group exhibitions in Ukraine, Lithuania, Poland, France, Georgia, Switzerland, Greece, and Bulgaria. His works have found their way to the collections of the National Museum "Kyiv Painting Gallery", the Art Museum of Zaporizhia and the Art Museum of Kherson. Living and working in Kyiv.