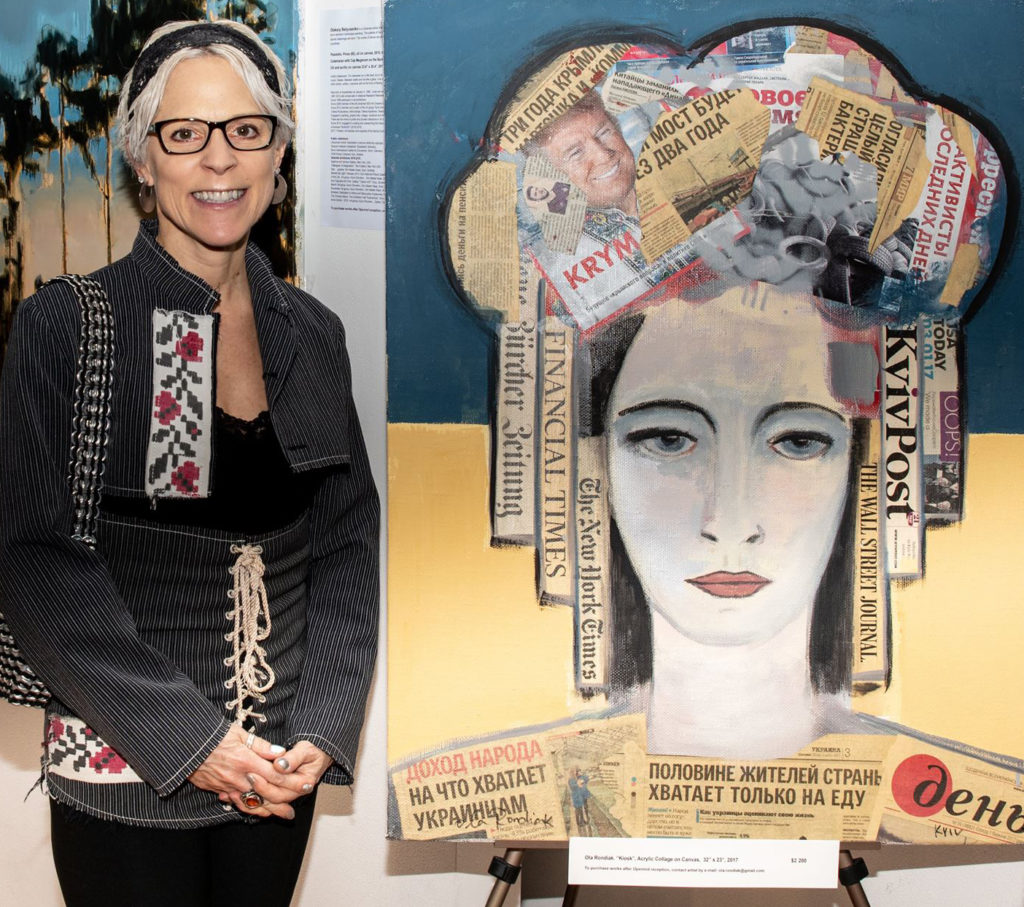 Artist's Statement
My artistic direction and perspective is inspired by my tragic family history, and shaped with raw intensity from my observations of years of living in post-soviet Ukraine. I believe that I have been given the role of a mediator through my art, while my history, my life experiences and my art are in a constant dialogue. I try to embrace my femininity with all its mystery, strength and dignity and offer an almost meditative feeling through my work so that we remember how we are all connected through our dreams and desires. I believe it's important for humans to connect authentically with each other, as we are essentially one within humanity.
One of the main motifs in my work is the "Vinok" , a headdress which was worn by women as part of the Ukrainian national costume. Historically, it was made out of flowers and in my paintings/collages I create them from layers of newspapers and magazines, reflecting history, as well as our times in the world today.
Education:
1994 – M.Ed. Clinical Psychology, Cleveland State University, Ohio
1989 -B.A. Psychology & Education, Hunter College, New York
1986 & 1988 – Harvard Ukrainian Research Institute. Harvard University. Cambridge, Massachusetts
Facing, Vozianov Studio, Kyiv, Ukraine
Committed, John William Gallery, Wilmington, DE
Mind Over Matter, MetroQuadro Gallery, Miami, FL
Metempsychosis, Revolution of Dignity Museum / Museum of Kyiv History, Kyiv, Ukraine Metempsychosis, WhiteBox Harlem, New York City
One Nation Independent, Ukrainian Cultural Center, Los Angeles, California
Of Evocation and Resemblance, Gallery 83, Kyiv, Ukraine
All the Same?, Taras Shevchenko Museum, Kaniv Ukraine
All the Same?, Museum of National Decorative Arts, Kaniv, Ukraine
All the Same?, Gallery RA, Kyiv, Ukraine
Days of Ukrainian Culture in Switzerland, Bern, Switzerland
Recent Group Exhibits:
Vessel Invitational: Revisioning the Receptacle, The Delaware Contemporary
Out & About, Ukrainian Contemporary Women's Art Fest, Modern Art Research Institute, Kyiv, Ukraine Femininity, Spaces Maidan Plaza, Kyiv, Ukraine
Women To The Fore, Hudson River Museum, New York
Who, If Not You?, Ornament Art Space, Kyiv, Ukraine
Ukrainian Art Week, Bruges, Belgium
Genesis, Dancing House Gallery, Prague, Czech Republic
With Ukraine in Our Hearts: Roots, Paths, Future, Ukrainian Cultural Center, Paris, France
Dialogues of Imagination, Tenri Gallery, New York City
Wearable Art Soiree, High Museum, Atlanta, Georgia
Selected Solo Exhibitions
2018
Art Basel Miami Context, Miami, Florida
Rebel Ukraine, Pall Mall, London, UK
Identity Interrupted, Honchar Museum, Kyiv, Ukraine
Identity Interrupted, Dzyga Gallery, Lviv, Ukraine
Identity Interrupted, Tri-Mission Art Gallery, US Embassy, Rome, Italy
Identity Interrupted, Ukrainian Institute of America, NY, NY
Identity Interrupted, Tauvers Gallery International, Kyiv, UA (See Video from Opening)
Behind the Lines, Zorya Fine Arts Gallery , Greenwich, CT
2017
Behind the Lines, Zorya Fine Arts Gallery , Greenwich, CT
More than Ukraine, Kyiv Fortress Gallery, Kyiv UA
Behind the Lines, The Delaware Contemporary, Wilmington, DE
Motanka, Mystetskyi Arsenal, Kyiv UA
Vinok, Ambassador's Residence, Berlin, Germany
2016
Vinok, Ukrainian National Museum, Chicago
Berehynia, Stage Background, Odesa Opera House, Odesa
Vinok, Consulate of Ukraine, Munich, Germany
Vinok, Nymphenburg Castle, Munich
Art Vaccination, Cultural Diplomacy, Vozianov Studio, Kyiv
Mural – Art United Us Kyiv Project, Mural on Wall of Borisohlibska 10a, Kyiv
Vinok, America House, Kyiv
2015
Vinok, Ukrainian Museum & Archives, Cleveland
Vinok, Ukrainian Educational & Cultural Center, Philadelphia
2014
Revolution of Dignity, US Embassy, Kyiv
Images of Maidan, Fulbright Gallery, Kyiv
Revolution Women, Porcelain, Kyiv 
Selected Group Exhibitions
2019
Dialogues of Imagination, Tenri Gallery, NYC
With Ukraine in Our Hearts: Roots, Paths, Future, Ukrainian Cultural Center, Paris, France
Wearable Art Soiree, High Museum, Atlanta, Georgia
2018
CLIO, Art Fair, New York City
RAW, Atlanta, Georgia
Conception Art Show, New York City (Award for Excellence)
Vyshyvanka Day, Mystetskiy Arsenal, Kyiv
Rituals & Identity, Ann Street Gallery, Newburgh, New York
2017
RAW, Brooklyn Night Bazaar, Brooklyn, New York
More than Ukraine, Fortress Gallery, Kyiv
2015
IWCK, Hilton Hotel, Kyiv
KIS, Radisson Hotel, Kyiv
A Portrait, Gallery Different, Kyiv
2014
IWCK, Intercontinental Hotel, Kyiv
Biography
Born in the United States to a Ukrainian family, Ola Rondiak began her professional life as a social worker, counselor and psychotherapist, with advanced degrees in the field of psychology, before turning to art. Moving to Ukraine with her husband in 1995, Ola embarked on family life and started painting and sculpting. She currently works internationally through her studios in Kyiv, Ukraine and New York City.
A prolific self-taught artist with incredible personal drive and enthusiasm, Ola derives inspiration for her canvases and other creations from her personal experiences of living in Ukraine as a woman, wife and mother. Having lived through the tumultuous events of Ukraine's recent history – the Orange Revolution in 2004 and the Revolution of Dignity in 2014 – Ola also draws on the collective Ukrainian memory of WWII, Stalin's Iron Curtain and more ancient history, as well as the present backdrop of what is happening in Ukraine.
Emotions resonate in Rondiak's paintings as her family history intertwines with Ukrainian history and tradition. Her iconographic portraiture of women depicts their determined and indomitable spirit and mixes the styles of pop art, folklore and icons of the Byzantine period. As stated by Kathrine Page, Rondiak "harvests a bold new, deeply personal prototype emblematic of feminine tenacity stitched in truth through the thread of her own story. Rondiak's creativity cuts the cloth of a new absolute beauty with a redemptive quality that clearly understands the important healing role of art and the psyche for future generations."
Ola's work has been exhibited in numerous solo exhibits throughout Ukraine, USA, and Europe. Some of her most recent exhibitions include Art Context Miami (Dec 2018) with Tauver's Gallery International, the Honchar Museum in Kyiv in a special tribute to the five-year anniversary of Maidan, Institute of Directors in London, US Embassies in Kyiv and Rome, The Ukrainian Institute of America in NYC,  the Delaware Contemporary Museum in Wilmington, DE, Zorya Fine Art Gallery in Greenwich, CT, Denise Bibro Fine Art Gallery in NYC, and the Ukrainian Cultural Center in Paris, France.
Rondiak joined the street art movement in Kyiv creating a mural in the historic district of Podil, highlighting the social shift towards Europe that is currently underway. Several of her works have been purchased by the Revolution of Dignity Museum to be in the museum's permanent collection in Kyiv. In 2018 she received the Award For Excellence from the Conception Global Art Collective following her exhibit in NYC.