Interview with designer Svetlana Nikitichna  
The Paradoxes of Life and Individual Approach
Tatyana Borodina
I've been living in New York for almost 20 years in accordance with its rhythm and way of life, meeting a perfectly normal family budget. I'd like to emphasize this point because the Big Apple consists of many parallel worlds, whose way of life depends on many factors, the most significant of which is your occupation and budget. It's not that they live worse or better in these worlds, just differently. But no matter how different these worlds are, most New Yorkers will confirm that there's no place for an individual approach to their needs and wants any more. Only nostalgia and old movies are left as good memory of this phenomenon.
You might be surprised by the fact that one meeting in Kyiv spurred me to recall the Era of the Individual Approach in New York.
But I'll start from afar. Many will agree that those people, who grew up in the USSR, were brought up in a Spartan manner for obvious reasons. Especially it's about their wardrobe: it was extremely difficult to buy anything and almost impossible to buy something beautiful or stylish at that time.
Lucky dogs were those who had a mother, who could sew, and then learned how to sew themselves. I was just one of those lucky ones – my mom could do everything. Therefore, mini skirts and flared trousers, sewn from my grandmother's gabardine coats or dresses, required only the precious body shirt, which could be sewn from the tiny flower fabric, bought in the Sennoy Market (a shopping complex in Kyiv, demolished in 2005). By the way, it was possible to get something remotely resembling leather there and create such a super skirt, the object of one's envy and pride during school open evenings in the 6th-7th forms. To complete the desired LOOK, it was necessary to have a knitted waistcoat with transverse colored stripes. But that was a big problem because even trying I couldn't knit what I wanted.
Over time, it became easier to get fabrics. When I studied at the university, it was already possible to create quite stylish dresses according to Burda myself.
And here's the paradox. It turns out that the harsh Soviet and post-Soviet reality, oddly enough, taught me that clothes should fit well and thereby beautify, not vice versa. After moving to New York in the late 1990s, I found out that it was impossible to get the stuff I was accustomed to in my past Spartan life there.
I didn't have time to sew myself. It was possible to buy clothes easily and simply, but I couldn't get the full and final satisfaction from it – either they didn't fit well or their fabric and design looked dull. It was not about prime designers with the luxury and variety they offered you. By the way, even the branded stuff in the price range of $500 and higher apiece doesn't guarantee a perfect fit: after all, we're all a bit out of the ordinary and have our own personal characteristics that need to either be emphasized or hidden. So you should to either put up with it or wear very loose things, which, fortunately, have been fashionable in recent years.
For the sake of justice, I'd like to note that the above-mentioned doesn't concern girls with a model figure.
Well, now we come to the topic of our today's conversation – nostalgia for the Individual Approach.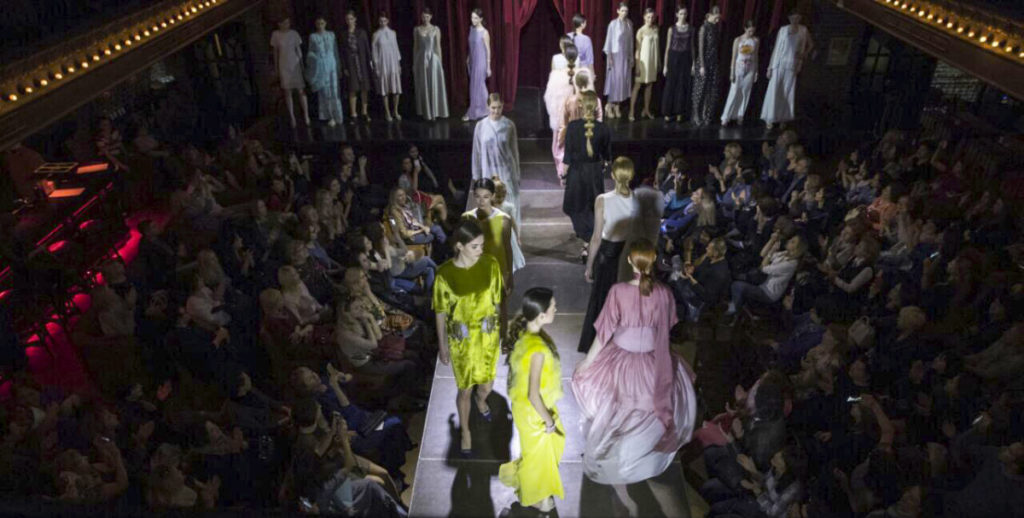 ***
I was fascinated by the place at first glance. That was a Kyiv courtyard with a small ladder and path leading to a mansion, most likely a pre-revolutionary building. The entrance door was a good example of Art Deco, very stylish and intriguing. I told that immediately to a pleasant young lady, who opened the door and led me into a spacious room with a huge mirror. Its windows looked out on the old Kyiv street.
"For now, please look at what we have in the hall. Sveta will come to you soon. She's working with a cutter now," these words sounded to me like a song. Besides, there were a lot of things to have my eyes glued to. The dresses grabbed my attention with wonderful fabrics. For me they were like a glass of cold water for a traveler crossing the desert. I contemplated them one after another – I liked them. They were stylish but, perhaps, not mine – not for my New York life. Too warm or extremely elegant.
But that one, the 4th dress taken off the hanger – oh, yes!!! It was like from the podium and I could wear it anywhere. I tried it on…. Alas… It was high time for me to lose weight…
Sveta entered the room. She was a pretty, slim and very energetic blonde. "How do you like it? Does it suit you? Is it small for you? Well, we'll sew you the same dress according to your size and preferences. That'll take two days".
Being a child of the stone jungle, not spoiled during the last 19 years, I was overcome with a quiet but deep delight.
That's how I met Svetlana Nikitchina, a designer and stylist in one person.
Svetlana is a very interesting interlocutor and a benevolent and open woman. Combined with her excellent taste and artistry, these traits keep people around her during the 25 years she's devoted to fashion.
Just imagine that the first customers of her ASL Company, registered in 1992, continue to visit her studio, wear her clothes and bring their daughters and girlfriends to her studio until now.
Svetlana organizes shows of new collections for them two times a year. She's done it without a break since 1998!
– This spring your fashion show has gathered a full hall at Caribbean Club in Kyiv. Who do you usually invite to your shows?
– I invite only my clients. This year, 217 people have visited my Fashion Show of the Spring-Summer Collection. By the way, there're more than four hundred people in my client base.
I always make seasonal shows, like balls or beauty festivals with treats and music. I have large collections, and each show lasts a long time. My latest fashion show featured 137 looks – a variety of things, united by the common idea.
– What was the unifying idea like?
– I called my collection 'Individuality'. The idea was that everyone should find something new, inspiring and free, remaining themselves. My clients and I needed a renewal and positive emotions. I think we did it.
This collection was united by a joyful mood, tender pastel colors, flowing fabrics, shades of light green, pink and turquoise. But the highlight was that we used the author's drawing and our own unique print for the first time.
– It's intriguing! Please tell me more about it.
– We've seized the opportunity and successfully implemented it – put the author's drawing or coloring on white Italian silk. By the way, we do it on the Italian equipment in Kyiv.
An image of a romantic girl, who originates from an incredible cosmic world, was created specially for the collection 'Individuality'. The image is very positive – this is a kind of Alice in Wonderland but already smart, grown up and successful.
You know, we weren't mistaken: after the show everybody called us and ordered an outfit with this image. For me it was happiness and success of my idea. We'll continue and develop this topic in fall.
– Congratulations! It's really interesting and very progressive. Yes, progressive, not 'trendy' because a trend is something possessed by everyone, thus, not unique. Many world designers are now interested in author's print on clothes. But they're hampered by mass production. An individual print makes sense when creating original things like yours.
– Yes, you're right! In my opinion, mass production gives more popularity and big money to a designer but deprives them from the freedom of creativity and experiment.
Once I thought of expanding my business – making it more massive and replicating clothes. But then I realized that it wasn't my way. I stopped proving something to someone. I get pleasure from what I'm doing, and that's the most important thing.
Why should I win over the broad masses if I already have more than four hundred of my clients who have been visiting me for decades, not for years? They've chosen me. They give me gratitude and money. So I decided that I'll focus on an individual approach.
It's harder and there's more work to do, but the most important thing for me now is the people I create clothes for. It's important for a woman to feel comfortable in my dress, get a special mood that will help her in her career or with her self-esteem, or it will give her a new feeling that she needs right now.
You know, I noticed that many successful women are so clever, purposeful and rational that it's time to help them to soften their image, regardless of the position they've reached.
 – Do you think that successful women sometimes become too Business Ladies and they need to remember the benefits of being just Ladies without the word 'business'?
– That's it. Sometimes, you must be within the framework of your business image every day. But this threatens to transform your individuality. How to cope with this? I believe that there should be a kind of Friday when you give up this business image and allow yourself to be yourself.
Now long dresses are becoming more and more fashionable, but I've offered them to my clients for more than five years. I have a bunch of them in every collection. Like nothing else, they help women to feel differently and remember what they can be.
Change your image at least for a short while, and you will have the strength to wear a business suit five days a week.
Once I persuaded one of my clients to wear a long dress. She told me, "This dress made me change my gait! When I wear it, I hurry up slower even if I'm in a hurry" (she laughs).
Another lady, the manager of a large hotel, ruled with an iron fist. When she started cooperating with me, her employees told me that she became gentler. They ask what happened to her. Her requirements didn't change, but her gaze became different – her glare always bored a hole right through people, and now… also bores it but gentler (she laughs).
Such stories are important to me. It's like aftertaste, I really like it.
– I know that you're appreciated not only as a designer of clothes but also as a stylist – you help to form an individual style and, thus, create an outfit, complementing it with the things that mix well from season to season and thereby prolonging the life of each of them.
– It may be said to be a kind of bonus package for my regular customers. Many designers charge extra money for this, I do it because I can't help doing it. I want all my clients to not only be satisfied and come again but always stand out from the crowd and live comfortably in their image. Besides, each image must be completed but vibrant at the same time.
Each designer has their own handwriting. If you've been a client of a certain master for years, you have a personal recognizable style. It becomes basic and can be complemented and developed. If you find it natural, the basic things may live for many years and don't cease to delight you.
I'm very pleased when they say to me, "Sveta, when I was going through my wardrobe, I threw everything away except your clothes. Yes, they're about 20 years old and tiny for me, but I can't part with them".
That's important to me because I understand that the person's special, dear memories and emotions are connected with my things.
 – Being a designer, you should badly want that people change their clothes as often as possible.
– Women tend to update their wardrobe. So that's not a problem (she laughs). It's important to me that things don't fall out of use during one or two seasons. This leaves bad aftertaste.
In addition, I want a woman to sometimes look at herself from a different angle and be able to change her usual image, shift gears and even change her style. However, the basic wardrobe may remain the same.
You see, we're changing and life is changing, but our usual self-view remains the same. That's not always good. Sometimes you need to shake yourself and get new emotions.
Emotions are very important – they put a light to women's eyes! But the more we become smarter and more experienced, the more difficult it's to find emotional impressions and positive energy spikes. As for me, I'm a very emotional person and try to give new emotions to my clients. If I succeed, I also get a positive charge in response.
 – Your new collection certainly gave a wonderful emotional charge. Obviously, when creating it, you thought of each of those who would wear it.
– You see, there's an uncertain situation in our country and I've noticed that my clients are in a very complicated psychological condition. They aren't downhearted, everything is going well, but there's NO mood. So I wanted to light them up or at least give a spark. To make them smile, inspire them to do trifling things – to put on a new dress or drink coffee in a cafe, not at home or in the office, as usual. Or wear a new overall and meet with friends over a glass of wine.
After all, I know many of my clients very well. It's like in a family, when people have lived together for 25 years: you can guess the behavior of your dearest and nearest before they open their eyes.
 – Really, you know your customers well. Standing in your salon or watching your fashion show, I remember the story of Coco Chanel – she was one of the first to start holding shows for her clients. In the early 20th century, even the media representatives weren't allowed to attend such displays. That was a world only for a small circle. Besides, all the models were kept secret, so that all the clients of the Fashion House could be the first to show off a new dress before people. Now this is possible maybe only in a very, very high society. And you provide mere mortals with the opportunity to enjoy the Individual Approach in the 21st century!

Sveta, perhaps your customers aren't mere mortals. Who are they?
– Of course, they aren't simple at all (she laughs). They're very clever, complex, multifaceted and creative women who have reached certain heights. Basically, they're all working and very busy people. Many of them run their own businesses, cultural projects, magazines or creative groups, being the generators of ideas.
I try to create the clothes, in which they'll feel naturally and organically, but at the same time a little differently than they used to.
I want the flower of femininity, hidden somewhere deep within ourselves, hidden from the harsh reality, and sometimes long forgotten, to blossom once again. I'm sure: every woman has such a flower but some of them are completely withered.
I want my clients to live with a feeling of easy carelessness, a desire to please themselves and get lots of admiring looks from passers-by. I want these women, who are tied up with business, to be stared after with envy and a thought that they're lucky people, who can afford NOT to work (she laughs).
We'd like to thank Svetlana for her amazing interview and wonderful clothes.