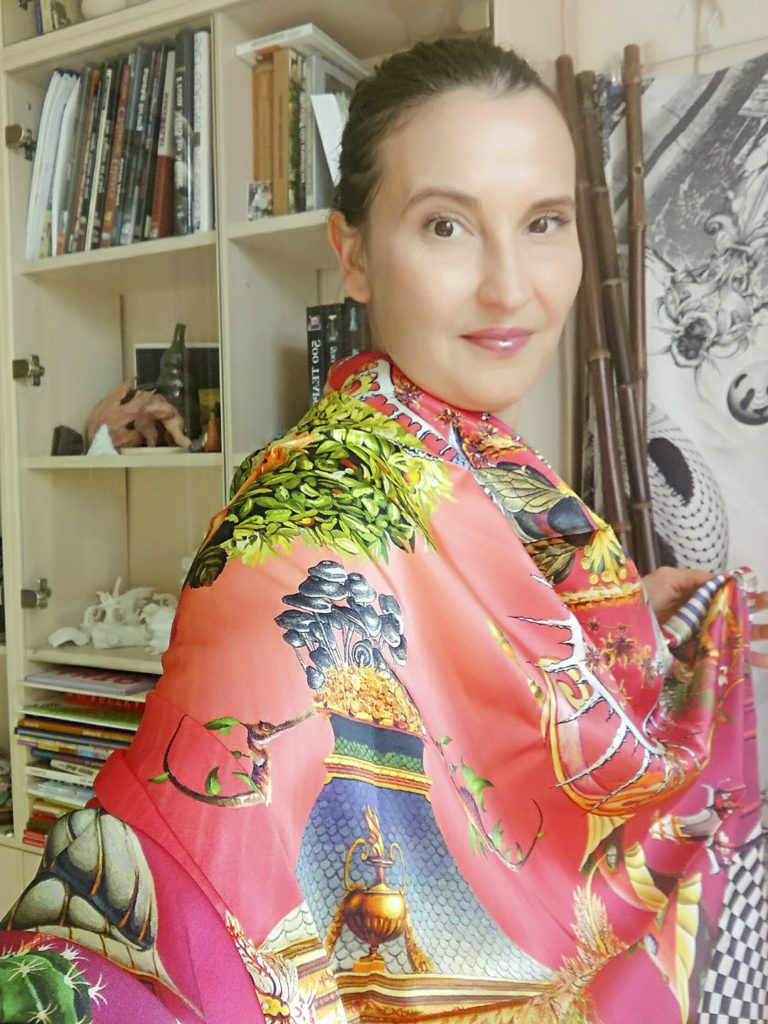 In the Family of Natalia, there was no foreshadowing the appearance of the artist, but there were dynasties of physiologists, chemists, biochemists, engineers, doctors. Her grandfather, a well-known physiologist, collected paintings, antiques, albums and books on the history of art, and most likely the environment of numerous works of art allowed the girl to easily start painting.
Later Natalia studied at the Kiev State Institute of Decorative Arts and Design. M. Boychuk, and also graduated from the graphic faculty of NTUU "KPI".
In his work, the designer tried to realize all education, formal and informal knowledge. Originally it was advertising and showcases, later illustrations of children's and adult books, and then the concept of restaurants, magazines and illustrations for them, the concept of corporate styles. She also participated in the development of the concept and its implementation in the television show "Stars in Opera" on the 1 + 1 channel. And, finally, the artist moved to an independent work, the beginning of which was laid out by graphic series. Next are personal exhibitions, ceramic sculpture, graphics on dishes, textiles and silk.
Ukrainian designer Natalia Kolpakova represented new collection of original silk shawlson Frankfurt Ambiente exhibition as the Winner of the Talents Contest.
The collection "Transformation of shifters"consists of new prints on silk 140X140 cm, and recently launched a line of scarves 48×210 cm
Now it's 20designs, which can be used as a clothing accessory or interior art-object as well.
Those design items are interesting for manufacturers of exclusive accessories, textiles, cloths modelers, interior designers, decorators etc.
Natalia developing this stream only for two years, but her exclusive shawls already was shown on Paris design Week, and have their venerators among lot's of fashion-mongers and collectors in different countries.
Original and strong author's style doesn't make indifferent the people, for whom the "style" concept – is a part of their lifestyle.
Her illustrations and graphics capture and embarrass, sometimes scary, but always hold audience by a powerful magnet of intrigue and mastery. Transformation of reality with the help of a vivid imagination and a good sense of humor embodied in exquisite silk kerchiefsthis time. You can look at strange interweaving of plots, and you can wrap up in them and dive into a fairy world of individual dreams.
Fine detailing and quality of prints on silk allow to use kerchiefas an element of decoration of the interior as a wall panel.
The collection of silk kerchiefs "Transformation of shifters" with plots of shifters is a continuation of the previous graphic series "Players", in which each plot was the author's interpretation of a certain kind of games:" One warm summer evening in the garden gazebo company amused cooking dinner over a campfire and board games. The light of the full moon, fire and small lamps snatched from the darkness changed excitement face. Emotions have changed with incredible speed. During the evening it has been tried 4 kinds of games, but the passions do not cease. So I visualized the first images. After the first picture (Poker) I decided research nature of gaming and gambling, as well as come up with a format paintings. Rhythm, color and graphic techniques varied from plot to plot and did not depend on the rules of the selected game, I allowed myself to play all of this, because not fond of any one type of game. Besides playing shifters.(Can be watched from any side)" commets Natalia.
"At NAKOL we believe in beautifully considered design. Through our range of scarves and accessories we take a contemporary approach to classic design. Blurring the lines of formal styling our statement prints and immaculately designed patterns lend themselves to those seeking modern elegance in a practical world. Celebrating fine  craftsmanship all our products are printed and handmade in Ukraine. Produced in small quantities at a time, each item is made to the highest standard ensuring exclusivity and uniqueness in every piece. Teaming our creative knowledge and design experience means each item is crafted with the wearer in mind so it looks as perfect on you as it does in our design room. We focus our attention to creating exceptional product that transcends the seasons, thus allowing us to embrace our true creativity and present new designs, colourways and special editions into our offering. Continuously linking fashion, style and design, we celebrate the launch our signature scarf collection. The range introduces new designs, styles and sizes in a feminine colour palette. Made from pure silk our scarves can be worn all year round fitting perfectly into your modern wardrobe."
Contact by email: [email protected]