April 2017, New York
Katya Leonoviсh:
So that's how it all began
Let's begin in chronological order.  I got my start in Moscow, but didn't get to work there for long.  Soon after graduating from the Textile Academy, I won the fashion award at Slava Zaitsev competition. I made a leather collection, but all my pieces, to be honest, were far removed from everyday life.  The collection was made of genuine leather and all items were with artistic cuts that shaped up into quaint patterns on the body of the models! It was unexpected and bold, after all it was 1995! The collection got the attention of the French, who noted that Katya makes skin look like silk.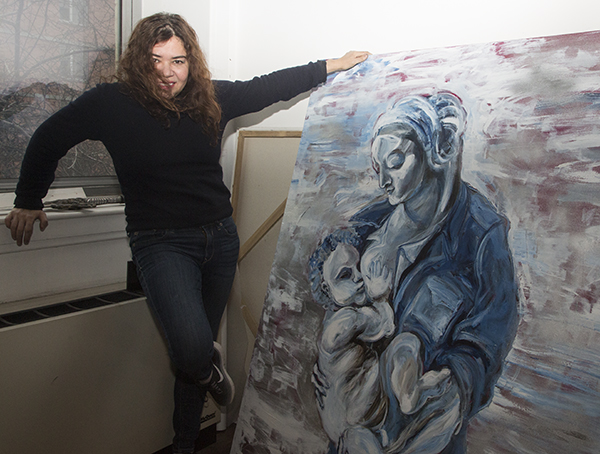 Thereafter I upped the sticks and moved to Italy, where I got invited after winning an award at the fashion competition in Milan (Mittelmoda International, 1997).  There I started creating completely different pieces.  I started using chiffon, silk, organza and, in particular, I picked up the art of creating out of the Italian haute couture "cadi" silk.
I spent eight years working in Italy, two of which were for the oldest and famous Italian high fashion house of Gattinoni.  After that, I worked for six years on my own brand, which I got registered in Italy.
Then I trained in Paris and Italy and participated in many Paris fashion weeks with collections under my own brand.
They wrote a lot about me in Paris, and, most importantly, it was observed by "Officiel" that "Katya is an artist. Did you sense that she is artistic?"
Both "Figaro" and "Paris Match" wrote about me as well.
Sometime in 2009 I moved to New York.  It took me some time to figure out what I was going to do in New York fashion world.
Since 2011, I started participating at the Mercedes Benz Fashion Week New York, and I did so until it ceased to exist.  When the Fashion Week moved from its Lincoln Center location, I took a time-out for a year, after which I had three shows, where I exhibited both a clothing collection and a collection of my paintings.
My position
What I will say may sound surprising to many, but the New York Fashion Week is amazingly conservative and anodyne! Everything here is either too rational and commonplace or very sweet-sweet-sweet.  Here it's not at all like in London, Paris, Tokyo or Milan, where you can get away with being sharp, daring, avant-garde or brutal.  In New York, almost everything that appears at the podium is an "adornment" and a rehash of generally accepted trends.
In the Old World, they make things of the future, but not yet in New York.  Why don't we here, in the New World, think a little and make something different! None of the fashion designers in New York has got around doing that thus far…
There ought to finally appear something completely novel, even if not understandable at the moment, which would step out of the ordinary, push the boundaries and take it to another level.  And there will be people with independent and vivid personality who will be willing and able to wear it.  In this regard, new creations should not stunt the shape of the body, but rather look beautiful, albeit in a different way.
Without the avant-garde, the future does not arrive and the new does not make its appearance.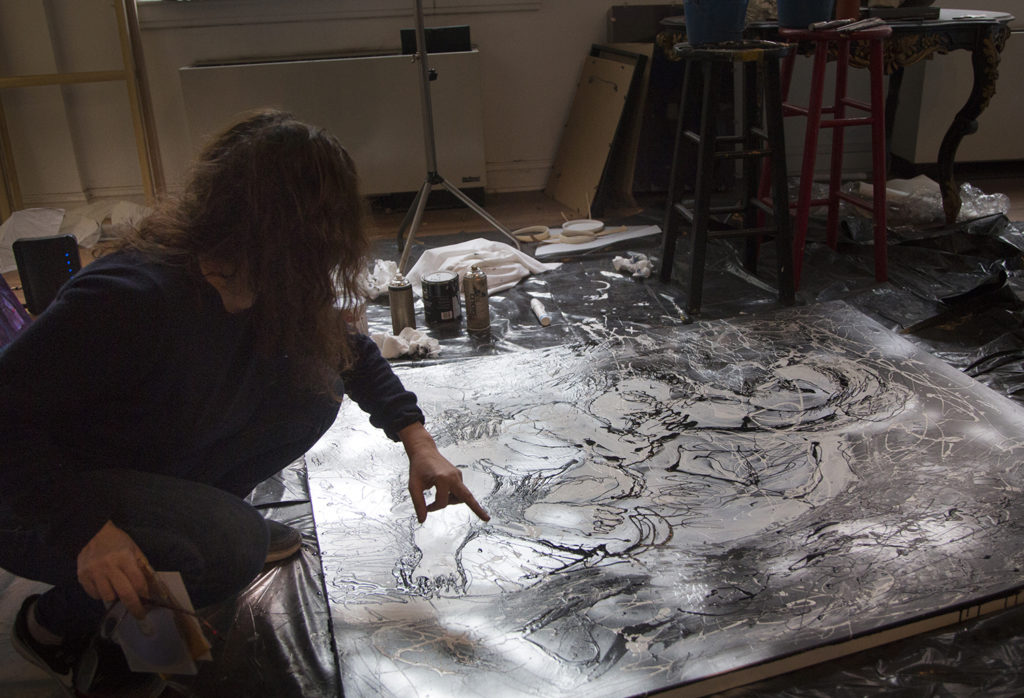 Why not take a chance?! Would you wear a jacket … which, suppose, would look like it's made of a dinosaur skin? A woman like you, who has an open mind, can do it! You can wear it, if you have a character! You will be different, not like the others.  But is it necessarily a bad thing?!
I'm going against the tide and I want to shake New York up! I am creating something alternative and am contributing to the fashion of the future, even if it's not wearable right here and now.  Having said that, each item of my new collection is wearable, as combined with a traditional wardrobe.
Post apocalypse and a new pitch
I'm happy with how it all turned out at my last show as part of the New York Fashion Week.  It was both a fashion show and a fashion presentation and art exhibition.
The models walked out as on a runway, then they stood there for more than an hour, and you could examine every piece – just like in a fashion show, and together with the paintings it all looked like an exhibition. My paintings were meant to provide a key to understanding the concept of the collection. There was a consensus of art and design, an inseparable link between the artistic and fashion sides.  I believe that it is an up-to-date and modern version of the show.
The idea of the collection is post apocalypse.  Perhaps, someone may have taken it in a negative light.  But I wanted to emphasize something else – rebirth after a shock and destruction, "a rising from the ashes." The protagonists of my collection survived and preserved themselves.   Even though they suffered, went through terrible stress, but they are women, they were able to overcome everything and stay beautiful.
The dresses and the makeup carry a message that a catastrophe has happened.  But nevertheless, they are beautiful and embody a concept, style, and novelty.
During the show, I presented a selection of my art works entitled "Madonna."  One of the works is reminiscent of da Vinci, the other is of Pollock…
Nursing Madonna talks about the future. Whatever happens to us, there is a future for us.  We do not know what it will be like.  But Madonna and her baby are what keep the humanity together.  This is love, birth, continuity, hope.  These are the most important topics. These are eternal topics, and they are positive, and my collection is positive.  It simply needs to be read and understood correctly.
It's not all about dresses, even though they are done beautifully, with French lace, and they are all aesthetically put together.  But, most importantly, it is a conversation piece about the future, about the life experience, about the revival, about what we can be like in the new post-apocalyptic world! That's what I wanted to say.
At the edge of the razor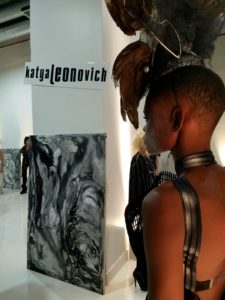 The music that we used during the show carried the same message.  Introduction – wolf howling.   We took this natural sound from the internet.  Then it was Wagner's "The Valkyrie."  This music was written in the 1850s.  It is infernal, post-apocalyptic music.  Moreover, we wanted the alternation – wolves, Wagner, wolves, Wagner.  Do you understand? That is, when people came out of the apocalypse, it was this kind of music that was supposed to accompany them.
This time we did what we wanted.  But we did it beautifully.  It was another type of beauty – not sweet, not strewn with rhinestones.  Perhaps, it will be understood not now, but in a few years. But that's not the point – we were making a breakthrough, and I think we succeeded.
I'll go even further, even steeper.
By the blade and through it.
To make people understand that everything is not so sweet and monotonous in New York. For me it's a passion, it's a desire to make the future.
When I was still starting out, I won the competition and received the Elio Fiorucci award, after the famous Italian avant-garde designer – I did crazy things back then. This is what's mine – I love and know how to create it! And then, when I got to the house of Gattinoni in Rome, I was allowed to do crazy things. Why do not I make them now in New York?! Or is New York still not ready for this?! (Laugh)
Creating a collection
My collection is neither underground nor trash – it's grunge.
Supima Cotton brand provided the denim fabric because I won their sponsorship prize.
Although the fabric was beautiful and delicate, I decided to combine denim with French lace in order to completely change the look of the fabric- the combo of denim and lace is quite unusual. The image of the fabric was truly important. I wanted to make sure that lace accents don't look too girly therefore I treated it with special solution to give it the same texture as leather. It looks very modern.
I created my pieces from neoprene, leather, lace and silk. There are several contemporary style tunics in my collection that can be worn with anything -leggings, black pantyhose, or it can be worn with a small black dress. When I cut out the denim fabric for these tunics it got completely transformed. The lace lining is visible through the incisions in the fabric. As a result, there is a completely new image.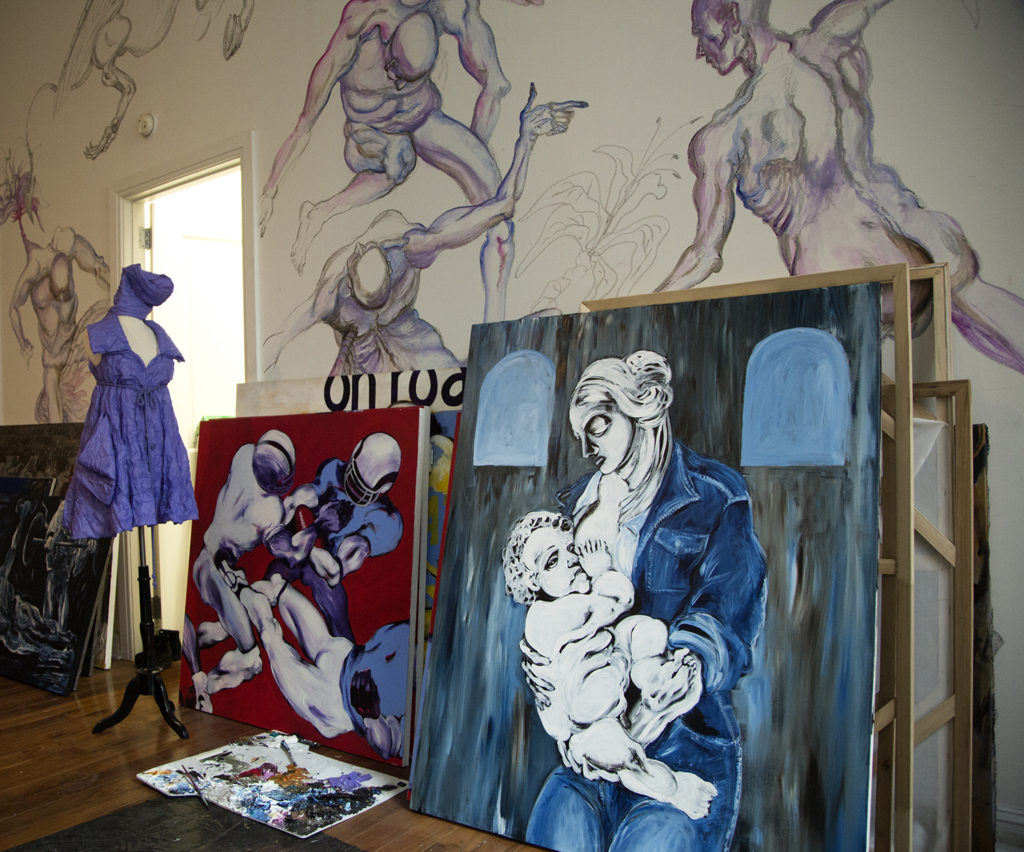 Leather has its own special story. I painted it, shrunk it, stretched it, and crushed it. All this hand work, traditional high fashion, high couture.
Just like Jackson Pollock I action paint my creations. I improvise. When I pour paint, there is already some kind of composition. Having said that the paint has to be poured  correctly. Same thing happened to my collection. I took a clean piece of leather and tied it with elastic bands; the leather took a certain shape, and after putting it on the base, I squeezed, crushed, and then hand-painted it. Just like action painting in art I created my version for fashion – Action Fashion.
While creating a new approach, we push people outside of their comfort zones, form a new style, try to teach them how to wear and WANT such unusual things.
In fact, the US is only starting to explore this new movement in comparison with London or Paris. It has started to emerge therefore it's important to show new perspectives and to inspire people with bold new ideas.
People I worked with
We decided to swim against the stream with Leonid Gurevich, stylist for the collection.
He is such an amazing stylist! Many who worked with me before, did not always feel my style, did not always create the right combos. Leonid just felt my concept and understood everything
He combined shoes and hats from Anya Caliendo with "Selen_Design" jewelry. He knew what he was doing – predicted and solved everything. He took over all the preparations for the fashion show – collecting, filtering, casting, the accessories, the details and everything else! He was always there by my side- during the creative process as well as for routine matters. Not only he is talented, intelligent, and educated, but he is also a terrific person and an wonderful friend.
We also worked with  "Augment Tokyo", an amazing Japanese company doing hair and makeup. 30 people backstage did everything according to our sketches! They worked superbly with Leonid and my assistants, delivering grandiose results- I was happy to work with Gurevich and the team!