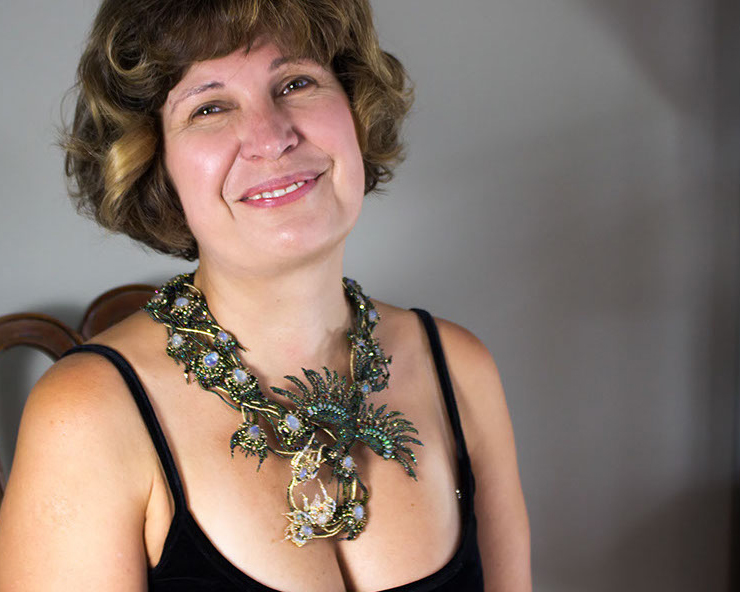 Anna Perelman is an Estonian born American beads jewelry designer whose passion for innovative designs earned her recognition among both industry professionals and consumer followers.
Her style can be defined as an organic combination of romantic shapes and colors and challenging hard-to-do beading techniques. Anna constantly experiments with various–mostly antique–Venetian and French seed beads, natural stones and precious metal elements.
Anna exhibits her works at select US and international trade shows and does not offer any pieces for sale or commercial use.
Conversation with Artist:
Where do you live?
Saratoga, California
What inspires you as a designer-artist?
By becoming a jewelry designer, I satisfied my thirst for creating something new, materializing things that previously existed only in my imagination. Conceiving an idea for a new design can keep me up at night, endless experiments with new techniques make me focused and persistent, seeing my works completed makes me proud and happy.
What medium do you work with mostly?
I like Toho™ beads. Also, I used Antique Venetian and French seed beads, gemstones and precious metal elements.
Why did you become enchanted with this style of jewelry-making?
I found in seed beading everything that is usually associated with the classical arts: creative ideas, necessity to constantly improve your professional skills, experimenting with new materials, ability to express yourself in your works.
What is the name of the piece you submitted with your success story?
In Love Again
What inspired this design?
The butterfly is a symbol of beauty that has very little life … We can't be young forever but we can enjoy every moment of what we have.
How did it come together?
There were two equally compelling concepts for a composition of this work. Choosing one was challenging but after the decision was made all elements found their places very organically.