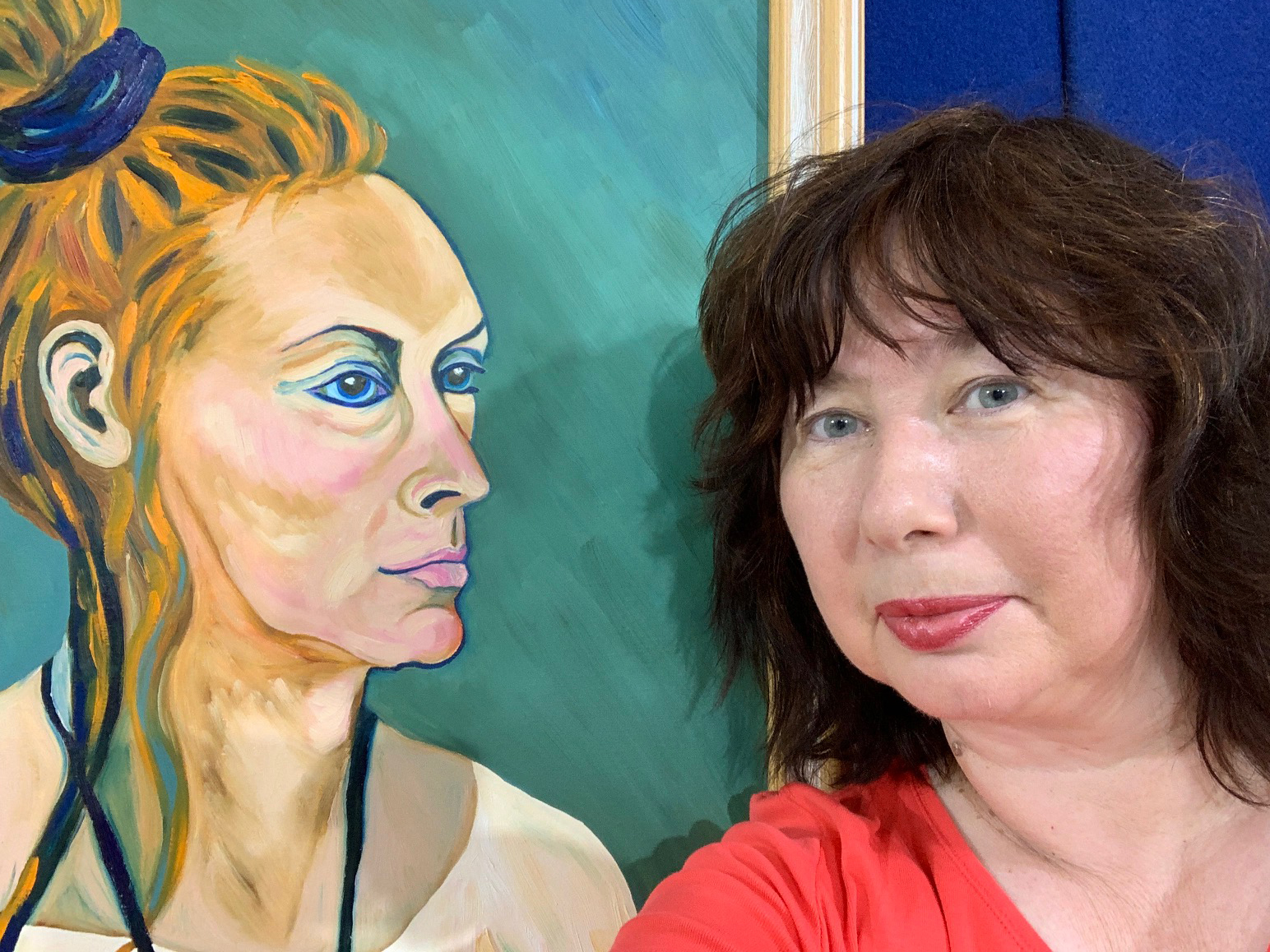 Biography
Russian-born Elena Dobrovolskaya was drawn to art from her early years, but the path to becoming an oil painter has not been a straight one. Despite studying drawing during school years, she decided to follow in her mother's footsteps and graduated with a degree in chemical engineering.
Her career soon turned to business – she founded a travel company. 15 years in travel business gave Elena a unique opportunity to visit the best art museums in the world and to study art history from the original works of the great masters.
Elena radically changed her life in 2010 – she closed her business and returned to her passion for art. She took up private lessons of oil painting with renowned artist Oleg Leonov- an academician,  a bright member of the Russian Academy of Fine Art, famous for his realistic portraits and landscapes.
From her teacher she captured a Russian school technique of Old Masters and added her own vision of classical portraiture with a bright, tasteful color palette. After only a year at Leonov's art studio Elena Dobrovolskaya was accepted as a member of the Creative Union of Russia's Artists.
In 2011-2012 she worked as a curator of large-scale photo exhibitions in New York, Moscow, Paris and Strasbourg, garnering extensive press-coverage and appreciation by the audience.
In 2012 Elena moved to the US. She is a member of the Artist Guild of Pushkin Society in America. Her art works were exhibited at the galleries and private events in Greenwich CT, Philadelphia PA and at the Tenri gallery in Manhattan NY. In May 2018 a series of her graphic portraits were presented at the Grand Central Library in New York. Elena is a finalist of a few Artavita contests. Recently she was awarded the International Prize Velazquez (art critic's award), the ceremony took place at the European Museum of Modern Art in Barcelona on April 6, 2019. Elena Dobrovolskaya presented her collection of portraits in oil and pastel at the prestigious and biggest American exhibition ArtExpo New York in April 2019. In June 2019 she participated at Mantova Art Expo in Italy where she was awarded the International Prize Artist of the Year 2019. Elena's art works were published in French and Italian art magazines.
It seems she has already found her own style – her oil portraits are vibrant, colorful and very feminine, delicate, romantic and sexy, modern and classical at the same time, with monochromatic yet dynamic background. Each of her heroines has a great personality, a strong character which you can feel looking at the pictures. Her choice of media in the graphic works underlines the most interesting features of the model each and every time. A combination of warm sanguine for the face and body and colorful soft pastel for the clothes and accessories creates a magic and unforgettable look and could be called her "artistic style".
Elena Dobrovolskaya's art is represented by the Artifact gallery in Manhattan, NY, where in March 2021 she will have her first solo exhibition.
Elena lives and works at her art studio in Katonah, Westchester, NY.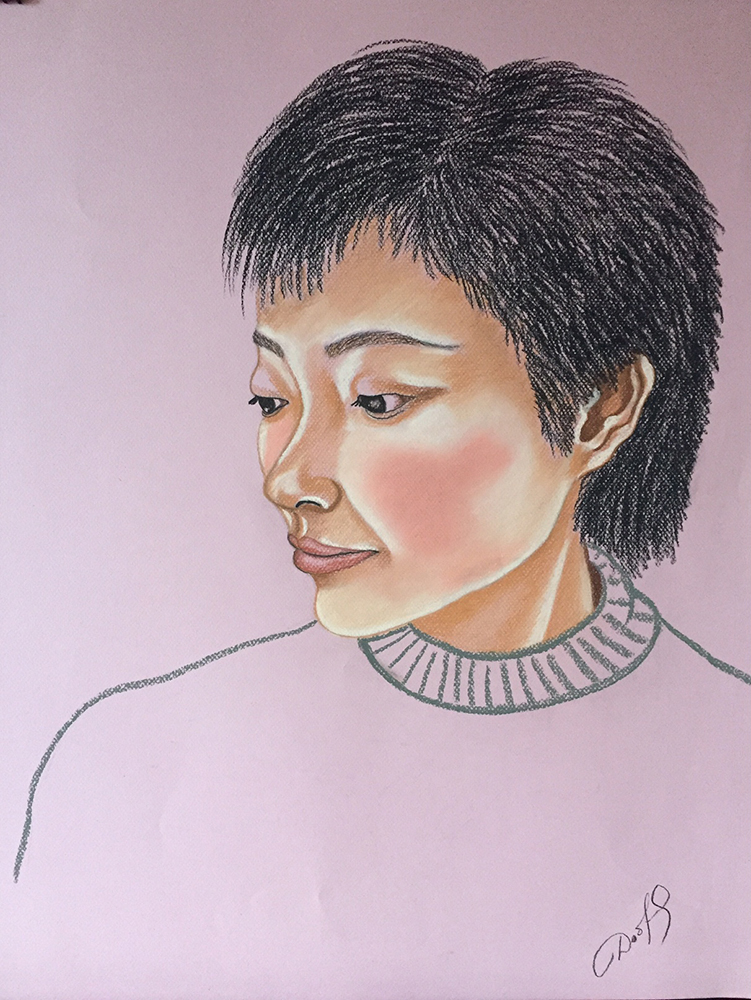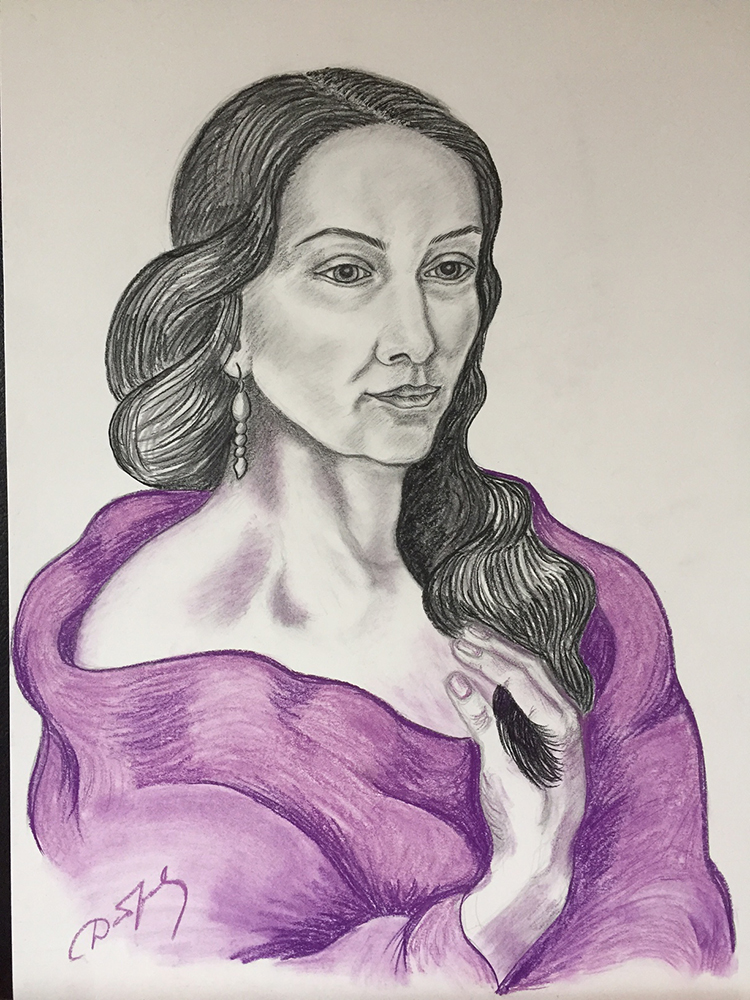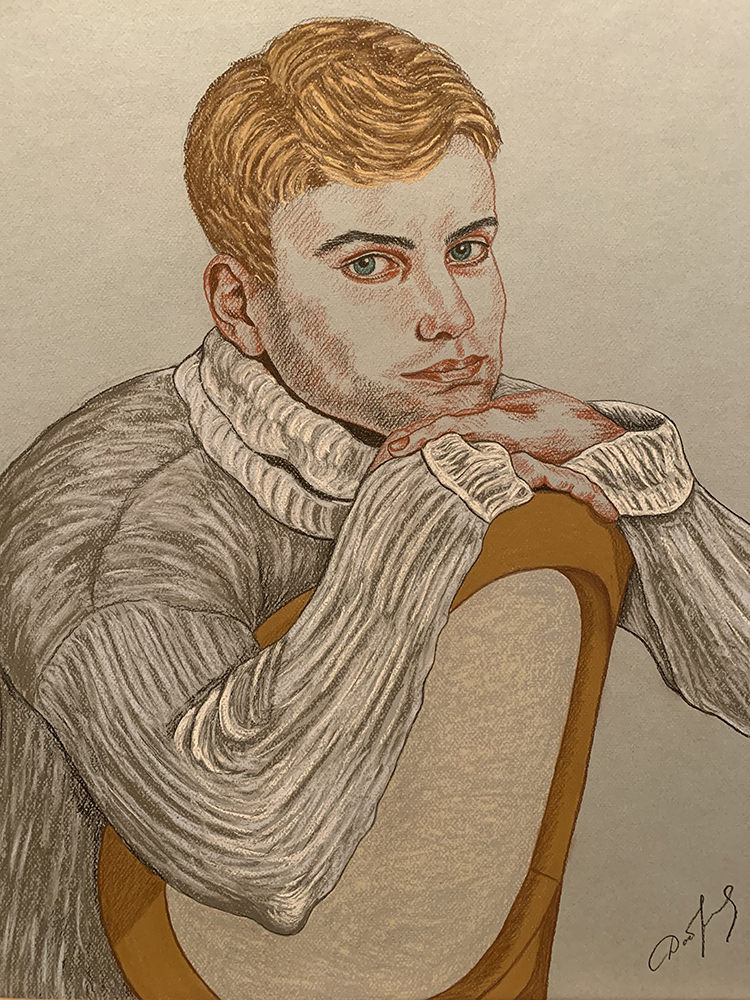 Artist Statement:
First of all I need to say I am a realist. That means I am drawing and painting a real objects and people around me. I know I am "out of trend" because an abstract and imaginative art has taken a leading role now, which is quite disappointing. There are so many beautiful things in our life (reality), you just need to notice it.  So here we go to the artist's task – to notice and show it to the others, adding a little bit of your personal touch. There is a whole artist's life inside this " little touch" – his thoughts, his experience, his taste and his vision. As a result the real life picture looks differently in different artist's works.
 When I was running my travel company a few years ago, our slogan was "Beauty is in details". Now I can restate it as my artist's credo. 
When I turned to oil-painting, I started with still-life. I prefer arranging compositions with fruits, flowers and some befitting objects to explore the beauty of color combinations and the game of shapes, lights and shadows. From time to time, I still enjoy painting still-life, but recently I have been concentrating on portraiture. I really believe there is nothing more interesting in nature than a human face. It always is about a character and a story behind it, which is marvelous!
 Looking at my portraits, people are usually saying something about Gauguin or Van Gogh resemblance, perhaps because of my color palette. I do want to say that I found my inspiration in the portraits of late 15th century German artists like Hans Memling (my favorite), Albrecht Durer, Hans Holbein the Elder and others. They belong to the Northern Renaissance period and have this beautiful elegant simplicity (which is false by the way), a fine silhouette definition on the sole-colored background, triumph and dominance of Her Majesty Line, herefrom they look more like graphic works than oil paintings. I love that, as the drawing itself is very important for me. I started as a graphic artist and brought it into my oil works. Also their ability of using just a few colors is fascinating and so powerful! It immediately catches the viewer's eye from any corner of the room but when they approach the portrait attracted by Color, they are seeing only the Face, everything else is flickering out… that is Mastery!
 I do not hope to even approach this level of excellence, but they have inspired me tremendously. In my portraits I am trying to use only two main colors except body tone itself which is lightening up in front of this setting. I also love to stage classical poses for my models but together with the bright color palette it looks rather modern as a result.