was born in 1960 in Magnitohorsk, Russia.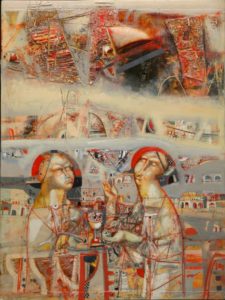 1979- Crimean art school im.Samokisha, Simferopol, Ukraine
1989 – graduated from the prestigious Kyiv State Arts Academy, Kyiv, Ukraine
1995 – Member of the National Union of Artists of Ukraine
1996 – The artist is a member of the National Artists' Union of Ukraine and the BG-ART
2009 – Academician of the Academy of Rome-modernist art
2011 – The nominee on the Shevchenkovska award,
Included in the 30 of the best artists of Ukraine by version of the "100 names" publication
2016 – 1 Prize on the international Kunstpreis  ART Worpswede-2016. Berlin, Germany
AWARDS:
2019 -First Place, First All-Ukrainian Biennale of Levkas. BCM White World. (Kiev, Ukraine)
2016 – First Place, the Kunstverein ART-Projekt Worpswede. Berlin, Germany 
2009 – Academician of the Academy of Rome-modernist Art
1998 – First Place, the Ukrainian Painting Triennale, Kyiv, Ukraine
1996 – Awarded the Zolotyi Peretyn Prize and Artist of the Year title, First International ART Festival, Kyiv, Ukraine
Currently resides and works in Kyiv, Ukraine.
Selected exhibitions 2016-2018
2019 Saphira and Ventura Gallery, New York, USA
2019 "Dialogues of Imagination", Tenri Gallery, New York USA
2019 First All-Ukrainian Biennale of Levkas. BCM White World, (First Prize), Kiev, Ukraine
2018 Retrospective personal exhibition, Painting /Levkas, Museum of Contemporary Art of Mr. Korsakov, Lutsk
2018 3D Public Art. Sculpture of the plain, National Suitor "Sofia Kievskaya", Kiev Gewalt/Macht/Herrscher".
2016 – Kunstverein ART-Project Worpswede. Berlin, Germany (First Prize)
2016 – Ukrainian painting triennial Kyiv 2016 (nomination first prize to Mykola Zhuravel), Kyiv, Ukraine
2016 – Invasion Redux. Ukrainian Institute of America, New York, USA 
Mykola Zhuravel is one of the most original artists of Ukrainian today. Each of his exhibition becomes an event in Kiev (Kyiv and not only) the artistic life. Creativity of Mykola Zhuravel – always search and experiment. That's why it appeals to different kinds of arts. "Levkas" called chalky soil of medieval iconography. From it postponed a modern sophisticated technique of writing, which combines the quality not only of paintings (by the way, of course levkas differ quite ascetic, muted color palette, paint for them is often tempera), but also sculpture.
Mykola Zhuravel breaks the boundaries between painting and sculpture, performance and installation art. Zhuravel turns to nature to create thriving monuments to man's links to the Earth itself. He searches for compatibility between Earth and mankind, while pointedly making reference to the obstacles that human beings have placed in the way of a harmonious existence. Zhuravel's ambitious style results in a remarkable series of living images of a visionary utopia, ranging from his beehive sculptures to his thought provoking installations of glass jars that become virtually transcendental. Born into a family of beekeepers, Zhuravel incorporates elements and products of beekeeping with traditional media into his work. Zhuravel uses honey, beeswax, and the actual beehive itself, along with other unusual media, such as tea and wine to create his unique works of art. The exquisite conceptual works present an arresting and deeply affecting array of images based on the age-old practice of nurturing honeybees. Equally striking are Zhuravel's paintings. By using levkas, a traditional primer employed by icon painters, Zhuravel unites the legacies of Byzantine and Rus icon painting with his contemporary painterly technique. The result, richly vibrant and inventive contemporary works that emerge as modern-day icons.
Born in 1963. Graduated from Kyiv State Arts Academy in 1985.
Member of the National Artists Union of Ukraine (from 1990).
Lives and works in Kiev and Vyshneve.
GrantFoundation Pro Helvetia from the Centre PasquArt. Biel-Bienne, Switzerland), 2001
Grant Center for Contemporary Art at NaUKMA founded by G.Soros from the Center for Contemporary Art at NaUKMA founded by G.Soros, Kyiv, Ukraine, 2000
First place in the 1999 project of the year contest organised by the Center for Contemporary Art Soviart, Kyiv, Ukraine, 1999
Honor prize Zolotyi Peretyn, title Artist of the Year at 2nd International ART festival. Kyiv, Ukraine, 1997
Honor prize of Salon International D`ART Contemporain. Nice, France, 1996
Honor diploma of the city of Kiev for the best piece of painting art of the year 1994. Kyiv, Ukraine, 1994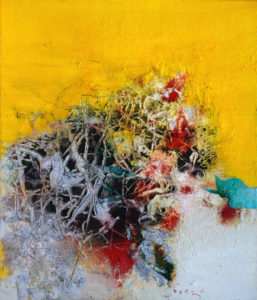 Selected International Exhibitions and Merits
2019 – Saphira and Ventura Gallery, New York, USA
2019 – "Dialogues of Imagination", Contemporary Art by American And Eastern European Artists, Tenri Gallery, New York USA
2018 – "To Light," National Museum of Taras Shevchenko (Kyiv, Ukraine), catalogue "Another Light," Gallery "Tryptych" (Kyiv, Ukraine)
2018 «Petro Bevza. Penetration,»Karas Gallery (Kyiv, Ukraine)
2017 «Petro Bevza. Jordan,» Andrey Sheptytsky National Museum (LvivUkraine), catalogue
2016
«Petro Bevza. Jordan,»Ukrainian Institute of America (New York, USA), catalogue.
Petro Bevza's new "Another One" has marked the beginning of a new eloquent language, an unexpected new way of viewing the world. Indeed, if one is to compare these paintings with those from previous series, for example, with "Theodosics" or "Jordan" – the changes are obvious. The graceful departure from the artist's established recognizable style induces not only fascination and awe. The power of mysterious images, the brightness and freshness of the renewed palette awaken both an emotional reaction in the neophyte viewer as well as a curiosity in the hermeneutical researcher. This is a good opportunity to examine the artist's work in a broader context than that of individual exhibitions. 
Bevza likes finding emotional resonances, points that stir up imagination and emotions. This is indirectly evidenced by the number of thematic cycles carried out, one of the first of which is eloquently titled "Ecstasy". The crazy desire to be filled with the world as much as possible, in all of its manifestations – this forms the artistic route, the logbook pages of which are paintings, objects, and videos. Fortunately, his inner romantic navigator avoids the dangerous reefs of orgiastic indiscriminateness and self-indulgence. The name "Ecstasy" can be interpreted as a kind of motto for a creative movement, but the starting point of the journey that led to the current transitory intermission is clearly the project «Ce'st moi. The Reality of Abstraction". In the catalog to it  Serhiy Krymsky wrote: "Petro Bevza turns to the primordial world – a monolith, where all malleable forces are in balance.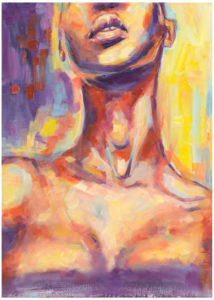 Anna is a Ukrainian artist who based in Slovenia. More than 16 years of her professional activity is related to art.
Nowadays she paints women's portraits, those do not belong to any concrete person, like an emotion or state those don't belong to everyone. 
Cosmic, Entire, Illuminated, Infinite, Brave, Honest, etc – these states like cards during shuffling, are changed inside each woman. Anna describes them, enlarges them and shows those meaning for her as for an artist and for every woman generally. Using saturated colors Anna demonstrates the power of a woman, her strength and global influence on the World. She uses large canvases to evoke her feelings for others to see. Deep eyes, smooth and bright lines of cheeks and faces, all these are on a big scale, big as human life is. 
At the present, paintings of Anna Miklashevich are in private collections in the USA, Canada, Ukraine, Slovenia, Italy, Swiss, Bulgaria, etc. She exhibits her paintings all over the World, also in the USA.
Short bio:
2018 – founded the atelier in Idrija, the city of UNESCO heritage, Slovenia. Here she paints and teaches students all over the World to paint.
2017 – moved to Slovenia and started a new journey.
2015 – marathoner, Florence marathon, Italy.
2012-2016 – guided the atelier for painting and teaching adults Alla-prima techniques in Kyiv. It was a very intensive time: the thousands of students from all over the World, online coaching, art-business coaching.
2011 – the beginning of work as an artist and teacher of Alla-prima techniques. Opened oil painting YouTube channel (guiding till now) where more than 150 own videos about painting techniques and art management are collected.
Master of Art and Cultural Management, Kyiv, Ukraine.
2006 – started independent work as a writer, later – became an entrepreneur. Till 2018 Anna has more than 15 years of experience in creating and management in art and cultural sphere.
From 17 years old – work as a PR and organization manager in art and culture sphere.
High school of Art and Architecture, Dnipro, Ukraine.
From 15 years old till now – working with the word in different ways: writing essays, articles, working in the advertisement. Winner and a laureate of competitions as a writer and copywriter.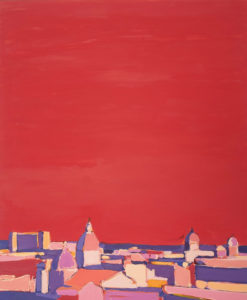 Born in Kiev Ukraine Armine Bozhko studied art since she was a child entering a prestigious art academy at the age of 11. Her pursuit of art studies and creative career led her to continue her art education at the Ukrainian Academy of Art where she received her bachelor and master degree. After post-graduate school, her Armenian origin and creative pursuits led her to Yerevan, Armenia where she also taught art at the Art Institute of Armenia as professor's assistant at the department of painting after which she attended the International Education Program, Gause Polonia, by grant from their Ministry of Culture and National Government. Armine Bozhko is a member of Ukrainian Artists Union and Armenian Artists Union. Her reputation has led her to multiple prestigious awards and shows throughout Ukraine, Armenia, Georgia, Poland, Russia, Italy, Canada and then in the United States. In 2019 she won the Solo Award at Art Expo in New York City. Currently Armine Bozhko lives and works in Long Island, New York. 
"Armine Bozhko works on the crossroads of different cultures- she was born in Ukrainian-Armenian family of writers and diplomats, studied in Republican art school by Taras Shevchenko, graduated Ukrainian Academy of Fine Arts, taught art at Armenian Institute of Art, and practiced art at Krakow Academy of Art. Her works are in multiple private collections of Italy, Norway, Canada, Armenia, Georgia, Russia, Ukraine, and USA. The last twelve years Armine has lived and works in the United States and currently resides in New York. Her works captivate by its spacious proportions and create the experience of the novels in color. "Color for me – it is a language in which I communicate to the world, – Says Armine, – That is why I attach such a great importance to it. Color for me is the concept of artistic work and self-expression, emotional response to the world." (Nova Gazeta, 2019)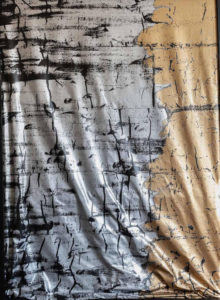 About Artist. Mariana von Westarp.
Some works of art tell stories, pray, argue, wonder, laugh, despair – just like the fellow human beings. The works of Ruslan Tremba listen.
The artist uses sheer foils of pure colour. Laid on large-format canvases, the colour loses its materiality and becomes immaterial light. The pictures shine. The light seems to be immanent in the picture like in a gemstone. Other than in the Middle Ages, we know that it cannot be true and that the light only comes from the outside. The immediate perception, however, is little influenced by these modern insights – the light, i.e. the divine, the unspeakable – is in the picture. 
The loss of corporality of colour – no traces of paint application – means that painting looks as if made-without-hands (Acheiropoieton), as an immaculate tabula rasa and a piece of revelation. 
On the smooth image surface, the light is refracted through various irregularities, pores and wrinkles. It is not a dazzling, direct light of the electric age, nor the moving light of a flame. Rather, it is the soft, glowing light of  irregularly twisted Byzantine mosaics – the light of San Marco in Venice. A reminiscence of light or a memory of light. 
Ruslan Tremba splits the Byzantine icon into two distinct parts. He detaches the gold background from the countenance in the icon – the word from the mystical speechlessness, the divine and the human, the aura of presence from the concrete figure. By extracting the gold background, the artist makes room in the icon – for the silent presence or for a new figure. 
The silhouettes of those attending are then mirrored deeply in the gentle, glowing light. The author speaks in this regard of his realism. From within the picture, the images are not reflected with the functional austerity of a mirror image, but with the tenderness of a dream, a poem. Only the denseness of the figure is transferred to the radiant image – the eternity. It is a kind of portrayal that, simply because of the technique, unspoken, reminds us of the eternity in man. A realism of the soul. 
The image evokes the inward self, the hidden doppelganger. There emerges a homely togetherness, an intimacy with the work that says "I see You" not to refer directly to the Bible saying "You are my beloved son". The paintings of Ruslan Tremba bear a silent presence, attentively listening and welcoming all that comes.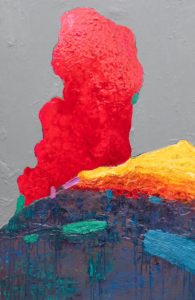 Vasyl Kadar is the representative of the young generation of Transcarpathian school of painting which is defined by the synthesis of folk traditions' transformations, particular color culture, and associativity of figurative thinking. The artist remains faithful to canonic concept of art as an exceptional means of expression where color and light are the fundamentals which assist to recreate the individual experience from the space and the surrounding world perception.
Vasil's first steps in the art are connected with mastering the art metal plasticity. The study in Transcarpathian Art Academy is the period of prolong searches of 'myself' in the materials and a sort of 'divarication' as far as the desire to represent the world by means of color dominated the plastic 'exercises'. Fortunately, the creative hesitation was not too long. Professionally qualified artist dove into a diverse art world without any doubts and with a craving for broadening the unlimited possibilities of the color. 
Painter's color talent became apparent from the very early experiments. His picturesque variations are always so breathing and magnetic colors. The sensual 'hot' art includes both the Ukrainian Baroque traits with its traditional form contrasts and Mannerism with its hyperbolized plasticity or Expressionism with its emotional form transformation and the sense of color vibrations. Usually, the author works with few colors which he effectively dissolves each in the other reaching the nuance sonority and subtle shades. In general, Vasil creates series which resemble a pictorial suite where he strives for the original joy in the initial color perception. 
Vasil Kadar works are not pure abstraction. They are rather impressions or reflections of the surrounding world, nature, acquired experience, all of which transform into the marks of feelings and their material and plastic traces on the canvas. The pulsation of contrast, the change of cold and hot combinations, the movement in the range from specific to abstract; these all are the intuitive and cognisable painter's variations on the natural metamorphoses. 
With daily growing knowledge, it becomes clear that the principal painting is yet to come. In fact, it is a meta painting that is made alone with your own thoughts, focusing on the inner self and trusting the imagination power. And a steady anxiety on the way to determine the being…  –  Oksana Havrosh, Ph in Fine Art, Art critic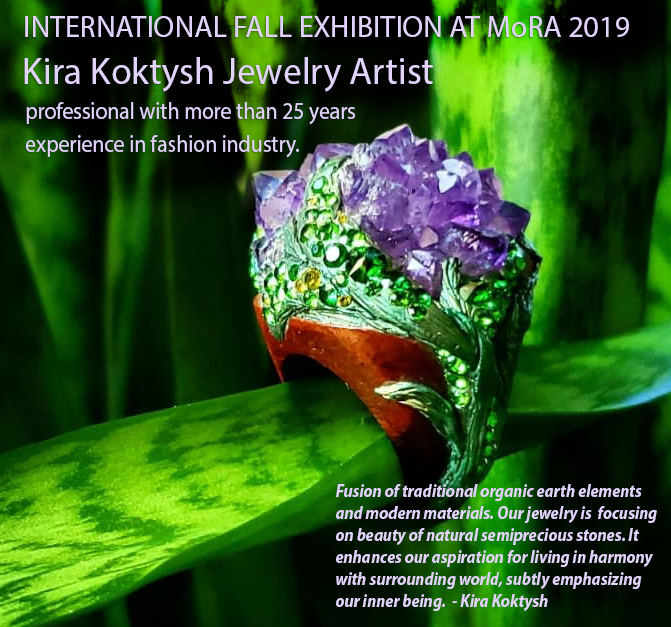 Kira Koktysh – professional with more than 25 years experience in fashion industry. Her career started as a designer for her own custom made clothes. Dealing with different clients Kira realized their needs not always involved just new clothes. It leads her in a direction known as Image consulting. In 1993 Kira started company CSC Image consulting.
In 2002 Kira moved to the United States. Being passionate about color and as a person who seeks for the real essence of things Kira received Certificates In Image Consulting and Color Specialist from Fashion Institute Of Technology (NYC). She has moved to a new level of enhancing her professional abilities and effectiveness. She became a Professional Color Specialist and added Color consultations to a range of her services.
This path along with Kira's comprehensive approach and sensitivity to individual person needs put her in a position of Art Director and Co-Owner of Manhattan based company InsideOutstyle, Inc., specializing in Feng Shui Image consulting.
As Kira's interests and experience evolved she decided to start her own jewelry line.
Kira Koktysh Jewelry New York, Inc. – is focusing on beauty of natural semiprecious stones. It enhances our aspiration for living in harmony with surrounding world, subtly emphasizing our inner being. Its jewelry inspired by symbols and folk stories from around the globe including Kira's native Urals Mountain region of Russia. It is a fusion of traditional organic earth elements and modern materials.
Kira's clients include sport and movie celebrities, bankers, diplomats, stay home moms and entrepreneurs. It is always sophisticated and intelligent woman who loves art and books, who is cosmopolitan and open minded, who appreciates the authentic story behind the beautiful item. It's a woman, who is confident and special, who celebrates her unique beauty every day.
In past few years Kira Koktysh Jewelry New York Inc. presented several jewelry collections –
Brooklyn Candy, The Mistress of the Copper Mountain, Oceanus, Pearl Paradise,
Alas de Mariposa, Poetry Without Words, Amethyst Delusion. Few of those collections received international recognition and now being sold in Europe.
Kira holds a Master Degree in Civil Engineering and Urban planning from Ural's State University (Yekaterinburg, Russia).  She studied Art History and History of Costume in Demidov's Academy of Arts and Crafts (Yekaterinburg, Russia) and has Certificates in Image consulting and Color Specialist Certificate from FIT (Fashion Institute of Technology, New York).
Art Alliance takes part in INTERNATIONAL FALL EXHIBITION AT MoRA 2019
October 3rd – October 19th, 2019
and in JCAST WEEK – October 3-6
OPENING RECEPTION WITH ARTISTS, Saturday, October 5th  6PM – 10PM
EVENING OF LIVE JAZZ, Saturday, October 12th 6PM – 10PM
CLOSING PARTY, Saturday, October 19th 7PM – 10PM