"The wise man belongs to all countries,
for the home of a great soul is the whole world."
Democritus
International Art Alliance brings together talented, dynamic, active, creative and ambitious people seeking professional support on their path to success and prosperity. International Art Alliance is an open space that offers resources and opportunities for promoting creative works and projects of alliance members in the international art-world.
Art objects have many uses. You can feast your eyes on them; decorate your house with them; invest in them. Art objects created by Alliance members are equally appealing no matter what the intended use is.
The art of photography captures the moment, thus preserving it from oblivion. Neither time nor space has the power over the desires and work of a photographer.
As contemporary art evolves, the bond between fashion and art becomes more and more obvious. If art is a form of self-expression, then fashion is the most obvious form of art.
Sculpture is three-dimensional art. Traditionally, there are two main methods: carving material such as wood or stone, and modeling forms by adding pieces of material such as clay. Modern artists have explored new materials and techniques.
«Every novel worthy of the name is like another planet, whether large or small, which has its own laws just as it has its own flora and fauna».  – François Mauriac
On February 7, 2019 the doors of the exhibition "Plasticity of Motion" opened in the spacious gallery of the "Tenri"  Gallery (Japan Cultural Institute), and numerous viewers filled the exhibition hall. Their expectations were more
 "Plasticity of Motion" Exhibition, Fashion and Jewelry Show Tenri Gallery, 43A W 13th St, New York, NY February 7th – 13th, 2019 Participants Photographers: Nina Alovert, Zoya Anderson, Mariya Andriichuk, Alex AG, Tina Sokolovskaya,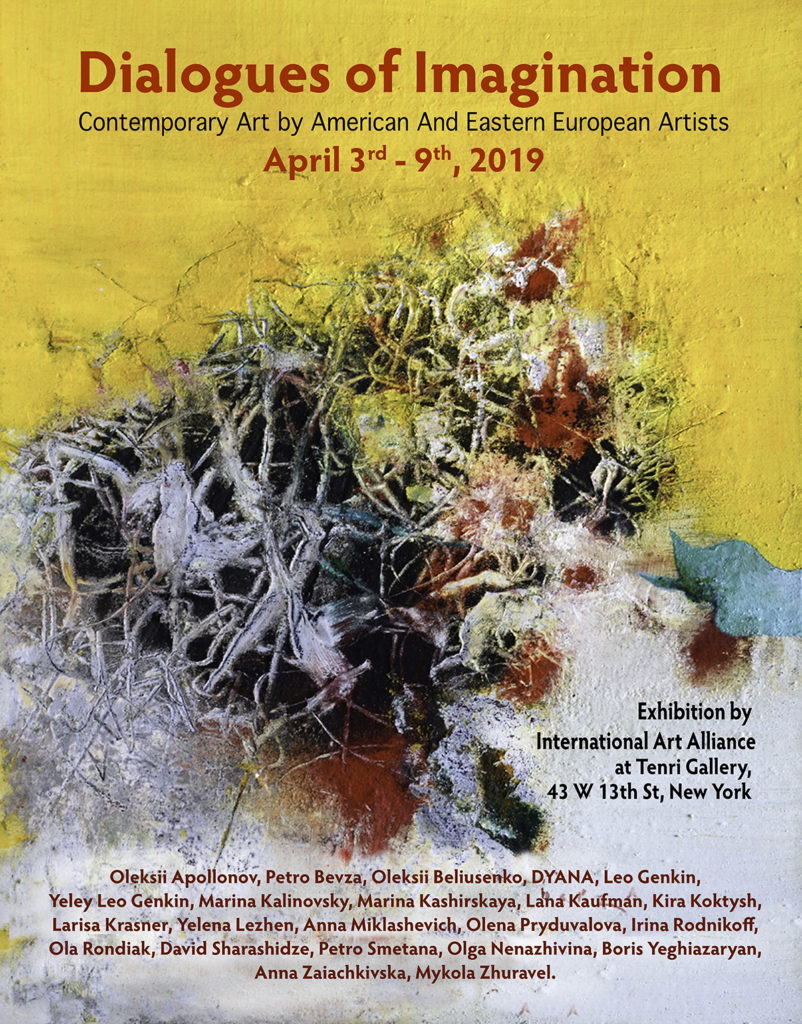 "Dialogues of Imagination"
Contemporary Art of Eastern Europe and the USA
April 3rd – 9th, 2019
Opening reception – April 3rd, 6-8 PM
The modern world, with its common information space, is becoming increasingly compact and informal. In art, it looks the most obvious and significant. Nowadays a creative person feels like a World Citizen, where contemporary art has become truly international.  Are cultural traditions, the continuity of art schools and generations relevant, and is personal national self-identification important in contemporary art? 
To find answers to these questions will help the exhibition "Dialogues of Imagination", which collected works of famous contemporary artists from Eastern Europe and the United States.  The exhibition is unique in the way that along with American artists, there are artists who are well known in Europe, but for the first time exhibiting their work in the United States. The exhibition presents artists whose works are in the collections of famous people, presidents of European states, in national museums, funds of famous companies, as well as in permanent exhibitions of leading European galleries.
Artists: Oleksii Apollonov, Petro Bevza, Oleksii Beliusenko, DYANA, Leo Genkin, Marina Kalinovsky, Marina Kashirskaya, Lana Kaufman, Kira Koktysh, Larisa Krasner, Yelena Lezhen, Anna Miklashevich, Olena Pryduvalova, David Sharashidze, Petro Smetana, Irina Rodnikoff, Ola Rondiak, Boris Yeghiazaryan, Anna Zaiachkivska, Mykola Zhuravel.
Curator: Tatyana Borodina
When the works of artists from 6 countries are shown in one exposition, the theme – Dialogues of Imagination, acquires a special meaning.  The exhibition forms a free dialogue of creative individuals with a unique artistic experience, original vision, and a complex spectrum of emotions. Artists engage the viewer in an active dialogue, offering to become a referee in their creative discussion. 
Modern art is a kind of mirror of the inner world not so much of the author as of the viewer.
Figurative and abstract painting, expressionism, realism, minimalism, primitive art, graphics and ceramics – a wide range of works will allow guests of the exhibition not only to find "their picture", but also to gain new experience in the knowledge of modern art.  The exhibition "Dialogues of Imagination" will give you beauty, pleasure and experience, will allow you to meet with talented artists and spend an unforgettable evening with a glass of wine in hand in the company of creative people. 
At the opening of the exhibition will be presented a collection of creations of famous jewelry designers Loe Genkin and Kira Koktysh. On the opening day guests of the exhibition will have a rare opportunity to purchase the works of artists and designers with a 15-20% discount.
Contact us by e-mail: tborodina@gmail.com