"Plasticity of Motion"
Exhibition, Fashion and Jewelry Show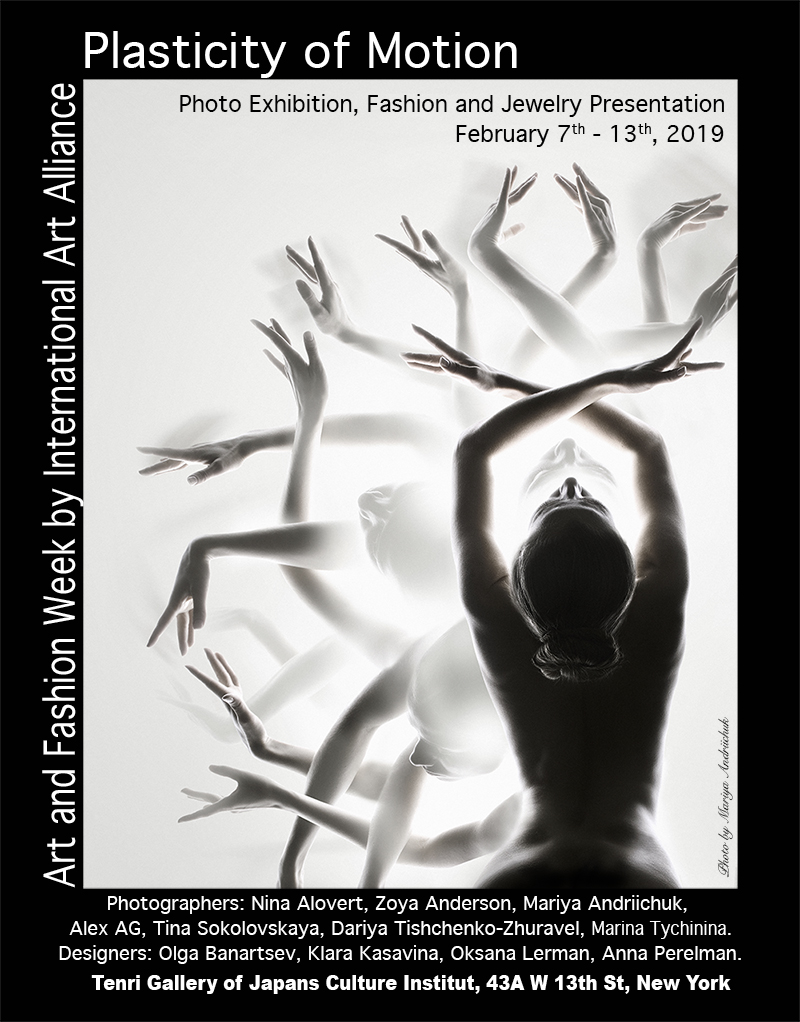 Opening reception: February 7th at 6 PM
Tenri Gallery, 43A W 13th St, New York, NY
February 7th – 13th, 2019
Participants
Art and Fashion Week by International Art Alliance
New York Fashion Week is a vibrant celebration of creativity, beauty and craftsmanship. As a tradition goes, International Art Alliance participates in this event. This year the Photo Exhibition, Fashion and Jewelry Show will be held under the title: "Plasticity of Motion".
Harmony, beauty and the human body's fluidity are regarded as the muses for ballet, painting, poetry, photography, music and even fashion and jewelry. The exhibition will feature works by outstanding photo artists, famous jewelry and fashion designers. It is devoted to the human perfection and beauty. Human is the main theme of our exhibition and its creator. 
There is nothing more natural to us than to experience motion. But body's movement are diverse! Are there many similarities in the motion of a boxer and a ballerina? Are there any similarities in the stroke of a conductor's hand and a cowboy throwing a lasso. What is the same between the steps of an elegant model on the catwalk and the last sprinter's step at the finish line? Our answer to these question lies in the body's plasticity. One can experience, capture and present motion in different ways. The artists do it in their own way using their own unique ideas and tools.
The fluidity of flowing fabric, precious metals and pearls, beads and gems in the works of the presented designers fascinates and amazes with its originality and skill. Designers and stylists with exquisite taste collect things in a complete ensemble, with the main goal to emphasize the unique femininity of everyone who wears them.
Photography is the main topic of the exhibition. It is impossible not to admire the body's fluidity in the pictures. But one cannot, but admire the creativity of the person behind the camera. The unsurpassed photographer is the one  who not only caught the moment of the absolute harmony, but also conveyed the emotions associated with it.
These talented and extraordinary photo artists presented their works at the "Plasticity of Motion" exhibition. From classics to conceptualism and surrealism, taken on a film or digital camera – all the works are highly professional, talented and creative.
During opening reception:
Wine bar by Vella Wine Bar and Kitchen
Greetings to guests and participants
Poetry by Nataliya Newman dedicated to "Plasticity of Motion" 
Fashion Show of evening dresses and accessories by Olga Banartsev, Oksana Lerman and Anna Perelman  
All artworks presented at the exhibition, exist in a single copy.
Works can be purchased directly at the exhibition or reserved with a small deposit on the first day of the exhibition and purchased after the exhibition at a 20% discount.